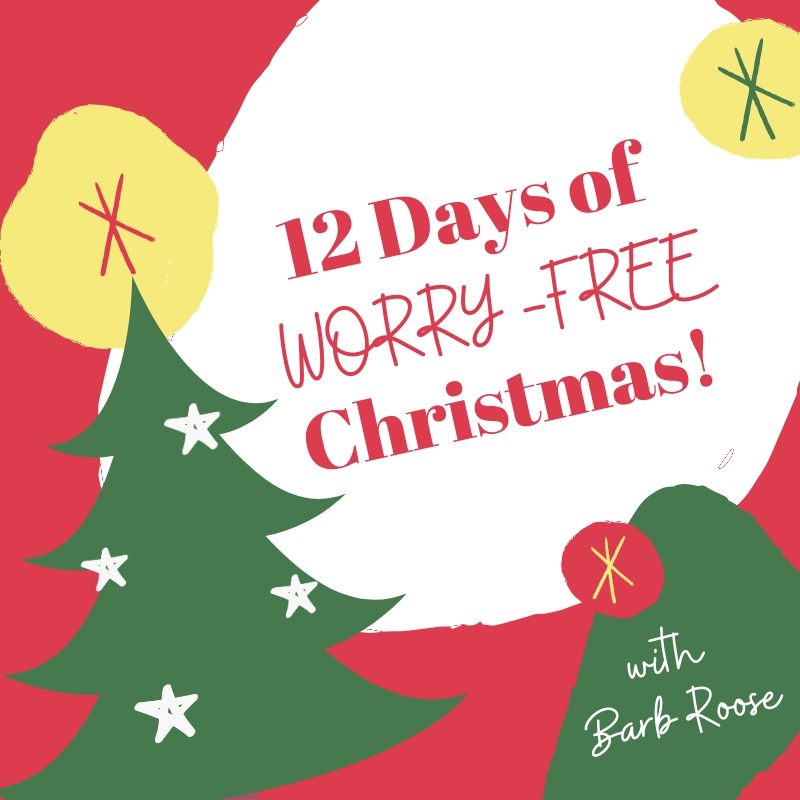 Are you or someone that you know feeling stressed out over the holidays? Join me for 12 days of tips and tools to experience less stress and MORE joy this holiday season! These faith-building, life-giving tools position you to experience God's victory over worry. Watch the entire series at barbroose.com/12days (I'll be adding a new video each day!)
Find more tips and tools to win your worry battle by checking out my Joshua: Winning the Worry Battle Bible study or Winning the Worry Battle book at abingdonwomen.com/barbroose.  
If you enjoy the videos, I'd love to hear from you!
Blessings,
Barb
Today is Day #1 of my 12 Days to Worry Free Christmas! Today, I'm sharing a simple, practical tool to help you quickly reduce anxiety while you're trying to get ready for Christmas. It's easy and you can start using it today!
Do you need to CALM down? It's Day #2 of my 12 Days to Worry Free Christmas and today, I'm sharing my CALM Technique or "that MISSISSIPPI breathing thing" as many have called it. I've taught the CALM Technique to thousands and it absolutely works! You can learn it today!
Put that phone down! Well, perhaps not yet…but, are there times when you pick up your phone to text someone when you should probably pray first? We all do it! Check out Day #3 of my 12 Days to Worry Free Christmas for a NEW, easy tool that you can use so that you have less stress and MORE joy this Christmas season. 
DAY #4 – No one loves to have hard conversations, but sometimes, they need to happen. On Day #4 of my 12 Days to a Worry Free Christmas and I'm sharing my CAREfrontation Sandwich technique from my Joshua Bible Study. This is a proven tool to help you have hard conversations in an honest, loving and life-giving way.
Do you ever feel like you are about to lose your mind? It's Day #5 of my 12 Days to Worry Free Christmas and I'm talking about how to use a simple bracelet is a simple tool to connect you to a powerful truth. 
Hey moms and dads… We don't like to see our kids struggle, BUT, how can we know what's helpful or not? It's Day #6 of my 12 Days to Worry Free Christmas and I'm sharing two powerful questions that shaped my parenting teens and now adult children.  
Wouldn't you like to wake up and not start worrying before your first cup of coffee? On Day #7 of my 12 Days to Worry Free Christmas, I'm teaching my "God-Morning/God-Night" Technique. I do this most EVERY.SINGLE.DAY. and it's been a game changer in winning my worry battle. Check out the video to find out more!
The average person worries 55 minutes per day! That's a lot of worrying. Unfortunately, we beat ourselves up for being worriers, but that's not helpful either. It's Day #8 of the 12 Days to Worry Free Christmas Series. Today,  I'm sharing a tool that will equip you to worry less – and to be kinder to yourself as well!
Do you struggle with knowing when you should help someone out? During the holidays, it's not uncommon to get approached for money or assistance from family or friends who don't have a track record of making good decisions. On Day #9 of the 12 Days to Worry Free Christmas series, I'm sharing four questions to help you wisely decide what to do – as well as how to respond when you need to say no to helping.
Has this year felt more bad than good? Sometimes, hard seasons of life can discourage us. In today's video, I'm sharing a helpful way for us to be focus on gratitude to help encourage our hearts in hard times. This is a great, practical tool that you can start using today – and you can even turn it into a Christmas gift for someone who might need it.
It might be the holidays, but real life is still happening, right?! On Day #11, I'm sharing a simple tool to help you immediately flip from fear to faith. It's one of my favorites, so I hope that you take a moment to watch!
It's the final day! Do you know the difference between worry and concern? On Day #12, I'm sharing four "P's" that you can keep in mind to keep you from getting drained by worry.