Blog
Sharing God's timeless wisdom with
practical application to your every day life.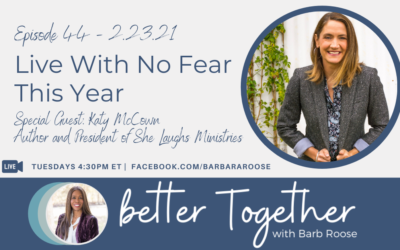 Even in the middle of hard and uncertain times, it is possible to live without fear! Join host, Barb Roose, and special guest Katy McCown on an all new episode of Better Together! Katy is a powerful Bible teacher, writer for Proverbs 31, mother of 6, and the wife of a...
Better Together Podcast
Do you like podcasts? Listen to my Better Together podcast where I interview women who are just like you – putting one foot in front of the other! Each episode will be filled with hope, help, and practical next steps so that we can ALL get better together.