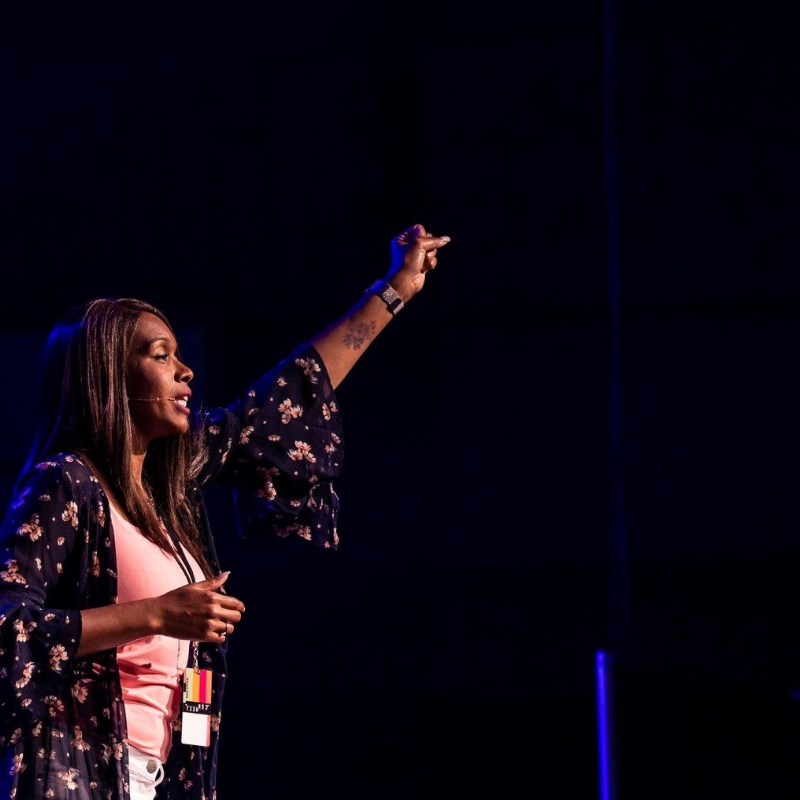 Barb Roose embraces and enjoys the complex world of faith, love, relationships, responsibilities and celebrating the even the smallest victories in life.
Originally from Medina, Ohio, Barb grew into a tall, lanky kid with thick Coke-bottle glasses in a close-knit, loving family. Barb's mom led her to faith in Christ when she was nine years old. Barb grew up in church and her mom inspired Barb as her Sunday School Bible teacher. She developed a love-hate relationship with same-named Barbie Dolls at an early age. Her teen years included lots of books, sports and a difficult struggle with what she saw in the mirror. Deeply affected by teen magazines and peer pressure, Barb fought what she would later call an epic "ugly struggle with beauty." Not only did Barb always feel that she felt short of culture's beauty standards, but she often questioned whether or not she could meet God's standards. A classic first-born, young Barb believed that God's favor depended upon following the rules.  
It was in her dorm room at Bowling Green State University in March 1992 that Barb finally understood the meaning and power of God's grace. On a spring day in March 1992, Barb sat in her dorm room gazing down at a positive pregnancy test. For the first time in her Christian life, Barb finally understood that that the same God who loved her when she was "following all the rules" for good Christian girls was the same God who still loved her even though she had seemingly wrecked her life. A few weeks later, Barb repented in her dorm room and confessed in front of her church a few weeks later.
After graduating from college with a degree in English, Barb worked as an insurance adjuster, pharmaceutical sales rep and non-profit executive before coming on staff at CedarCreek Church in Perrysburg, Ohio in February 2002. For almost 14 years, Barb served in a variety of positions, most recently as the Executive Director of Ministry for the church's five campuses. Her passion is helping people grow in authentic faith by developing discipleship and leadership training materials for people at every age and stage in life. While on staff, Barb served on the church's executive and teaching team. She still returns as a guest weekend teacher a few times a year. One of her career highlights was co-hosting CedarCreek's annual Fabulous Women's Conference, which approximately 10,000 women attended over the conference's five-year run.
In late 2014, Barb felt God planting a new dream in her heart. In January 2016, Barb left her beloved staff position at CedarCreek and transitioned into full-time women's ministry as a speaker and author.  
Barb is a real woman who has experienced God's power and presence during battles with depression and anxiety, parenting challenges and family addiction trauma. Rather than teaching audiences to follow God to get what they want, Barb inspires audiences to discover that God is all that they truly need!
BARB – STATEMENT OF FAITH
The Bible
The sole basis of my belief is the Bible, comprised of the 66 books of the Old and New Testaments. I believe that Scripture in its entirety originated with God and that it was given through the instrumentality of chosen men. Scripture at one and the same time speaks with the authority of God and reflects the backgrounds, styles, and vocabularies of human authors. I hold that the Scriptures are infallible and inerrant in the original manuscripts. They are the unique, full, and final authority on all matters of faith and practice, and there are no other writings similarly inspired by God. 2 Timothy 3:16
God
I believe that there is one true, holy God, eternally existing in three persons – Father, Son, and Holy Spirit – each of whom possesses equally all the attributes of deity, and the characteristics of personality. In the beginning, God created the world out of nothing and all the things therein, thus manifesting the glory of his power, wisdom, and goodness. By his providence, he is operating throughout history to fulfill His redemptive purposes. Genesis 1:1, Isaiah 7:14 and Luke 1:34-35
Jesus Christ
Jesus Christ is the eternal second person of the Trinity. I believe in his deity and in his miraculous conception and virgin birth. He lived a life of perfect obedience to the Father and voluntarily atoned for the sins of all by dying on the cross as their substitute, thus satisfying divine justice and accomplishing salvation for all who trust in Him alone. He rose from the dead in the same body, though
glorified, in which he lived and died. He ascended into heaven, and sat down at the right hand of the Father, where he, the only mediator between God and man, continually makes intercession for his own. He shall come again to earth,
personally and visibly, to consummate history and the eternal plan of God. John 1:1-5
The Holy Spirit
As believers submit to the Holy Spirit, the third person of the Trinity, they are enabled to live a life of holiness and obedience. The Holy Spirit was sent into the world by the Father and the Son to apply to mankind the saving work of Christ. He enlightens the minds of sinners, awakens in them recognition of their need of a Savior and regenerates them. At the point of salvation, he permanently
indwells every believer to become the source of assurance, comfort, strength and wisdom. He uniquely endows each believer with spiritual gifts for the building up of the church. The Holy Spirit guides believers in understanding and applying the Scriptures. His power and control are appropriated by faith, making it possible for the believer to lead a life of Christ-like character and to bear fruit to the glory of the Father. John 16:5-15
Salvation
The central purpose of God's revelation in Scripture is to call all people into fellowship with him. Originally created to have fellowship with God, man defied God, choosing to go his independent way, and so was alienated from God and suffered the corruption of his nature, rendering him unable to please God. The fall took place at the beginning of human history, and all individuals since have
suffered these consequences and are in need of the saving grace of God. The Salvation of mankind is, then, wholly a work of God's free grace, not the result, in whole or in part, of human works or goodness, and must be personally appropriated by repentance and faith. Salvation is available to all, but it must be received to become a child of God (John 1:12). When God has begun a saving
work in the heart of any person, he gives assurance in his Word that He will continue performing it until the day of its full consummation. John 3:16, Romans 10:9
Human Destiny
Death seals the eternal destiny of each person. For all mankind, there will be a resurrection of the body into the spiritual world and a judgment that will determine the fate of each individual. Unbelievers will be separated from God into condemnation. God's judgment will reveal his justice in consigning them to perpetuate in eternal retribution for their own rejection of God. Believers will be
received into eternal communion with God and will be rewarded for works done in this life. Romans 6:23
The Church
The result of being united with Jesus Christ is that all believers become positional members of his body, the Church. There is one true universal Church, comprised of all those who acknowledge Jesus Christ as Savior and Lord. The Scriptures command believers to gather together to devote themselves to worship, prayer, and the teaching of the Word of God. The Scriptures command believers to devote themselves to the observance of Baptism and Communion as the sacramental ordinances established by Jesus Christ. I believe that Baptism by immersion, in the name of the Father, Son, and Holy Spirit, is commanded by God; that it is subsequent to conversion, that it is not a saving ordinance, but an obedient outward expression of an inward work of the Spirit of God (Matthew 3:13-17). I believe that Communion is a symbol of the broken body and shed blood of our Lord Jesus Christ, representing the death, burial, and resurrection of our Lord, and a looking forward to the second coming of Christ to receive his own (1 Corinthians 11:23-24). The Scriptures also command believers to devote themselves to fellowship, service to the body through the development and use of talents and gifts, and outreach to the world. Every member of Christ's body should share their Christian witness with others. Acts 2:42
Faith and Practice
Scripture is the final authority in all matters of faith and practice. This church recognizes that it cannot bind the conscience of individual members in areas where Scripture is silent. Rather, each believer is to be led in those areas by the Lord, to whom he or she alone is ultimately responsible.
This Doctrinal Statement of faith expresses my beliefs.