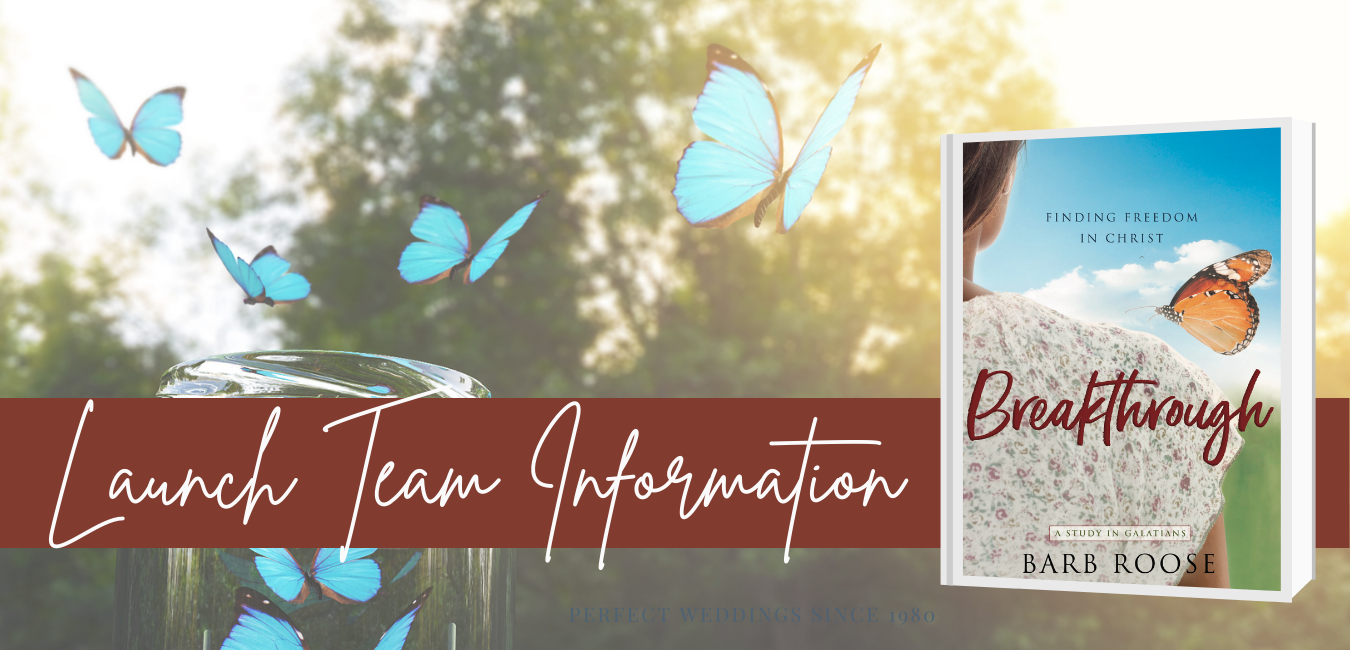 Launch Team Leadership Positions Available! Click here for more information!
Thanks for taking the next step and filling out the form. As promised, here is a recap of the details that I shared in the video.
As an author, my goal is to equip women to live beautifully strong and courageous lives so that women can experience God's great adventure of faith and purpose for their lives. So, I write Bible studies and books to inspire and encourage them to follow Jesus. However, I can't reach every woman to tell her about my new projects, so I need YOUR help!
A launch team is a group of 100 or more women who help an author share about her new project.
Launch team members commit to doing three things to make the launch a success:
You will complete the Breakthrough Bible Study and attend the Wednesday weekly online Facebook Live gatherings (or watch them on the replay). *Note: If you do not have Facebook, then you will not be able to be on the launch team.
You will pre-order a copy of the Breakthrough Bible Study. We will provide a free digital version of the entire study for the launch team. Your purchase is important so that you can share about the Bible study after the launch.
You agree to write an Amazon review – THIS IS REALLY IMPORTANT!
NOTE: If you answered an honest "yes" to all three of these questions, then you are on my launch team! Welcome to the Breakthrough team!!!
Dates to Remember
INTEREST DEADLINE: By Monday, February 8 to sign up for the Breakthrough launch team. As long as you answer "yes" to all of the questions, you will be accepted into the launch team.
LAUNCH TEAM DURATION: The launch team will be active from Wednesday, February 17-April 7.
COMPLIMENTARY DIGITAL COPY OF  BREAKTHROUGH STUDY: You will receive a complimentary digital copy of the Breakthrough Bible study. This is a pre-release copy that you will keep for you own use. More information about distribution will be shared during the Kick-Off session.
WEEKLY ONLINE GATHERINGS: Launch team participants will be a part of a private Breakthrough Facebook group. Barb will host a weekly online gathering on Wednesdays at 8pm ET on Facebook Live. She will teach through the content and ask discussion questions. This is an inspiring and interactive experience that will last one hour each week. The weekly teaching cannot be shared, BUT is available for replay if you are unable to attend the live teaching.
WEEKLY ONLINE GATHERING SCHEDULE (Wednesdays at 8pm ET):
Wednesday, February 17 – Kick-off!
Wednesday, February 24 – Week #1
Wednesday, March 3 – Week #2
Wednesday, March 10 – Week #3
Wednesday, March 17 – Week #4
Wednesday, March 24 – Week #5
Wednesday, March 31 – Week #6
(Tuesday) April 6 – LAUNCH OF BREAKTHROUGH STUDY!
Wednesday, April 7 – Final Launch Team Wrap-up
WHAT IS THE BREAKTHROUGH STUDY ABOUT?
Have you ever felt that being a good Christian means you've got to follow a bunch of rules and measure up?  If you've ever struggled with feeling like you aren't enough for God or felt trapped by rules or religion, this Breakthrough study will provide a path to discover your freedom in Christ.
In this six-week Bible study of Galatians, Barb shows us that even the believers in the early church struggled to let go of rule-keeping and performance in order to embrace God's free gift of grace.
Through this Breakthrough Bible study women will learn to:
…Stop trying to measure up and embrace God's grace
…Distinguish between lies and truth
…Embrace God's promise of freedom so that she can experience God's great adventure of faith and purpose.
We will provide an advance copy of the Breakthrough: Finding Freedom in Christ Bible study to you. Each week, you'll read/skim through the content at your own pace and participate in the launch team gathering.
WEEKLY ONLINE GROUP GATHERING
The online gatherings will happen each WEDNESDAY NIGHT AT 8:00PM ET on Facebook, so that's easy!
In addition to teaching the Breakthrough study publicly for the first time, I'll also share extra tidbits and behind-the-scenes information that's just for you!
BONUS! I'll also be give away a 30-minute "online coffee date" with me each week! One lucky winner will hang out on a one-on-one online chat with me and talk about whatever it is that YOU want to talk about! We'll laugh, connect and have fun together! Winners will be chosen by those who are online for the FB gathering.
FINALLY
Your "yes" to being a part of my launch team means that you are part of my team! So, I will be praying for you, cheering for you and truly counting on you to follow-through with those three elements of making the launch a success.
I hope that you will join me in praying whether or not God is impressing upon your heart for you to be a part of this Breakthrough Study!
If you have any questions, email me at barb@barbroose.com.