Description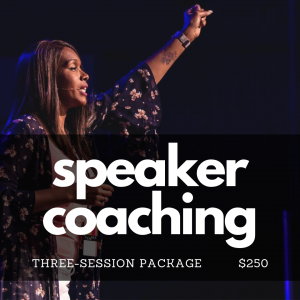 Do you feel God calling you to speak at women's conferences, retreats or at MOPS meetings? Are you a women's ministry leader or pastor's wife who wants to feel more confident in front of a crowd? I can help! I've been speaking for over 20 years to audiences, whether one-on-one to 10,000 and trained by American's top Christian communicators.
As your speaker coach, I will equip and encourage you to accomplish the following:
> Constructing your signature keynote message or creating a message for your next event;
> Teach you how to deliver a powerful message instead of just delivering from your notes;
> Assist you in creating goals and an action plan to establish or grow your speaking ministry.
Coaching Fees: $250 for a three-session package.