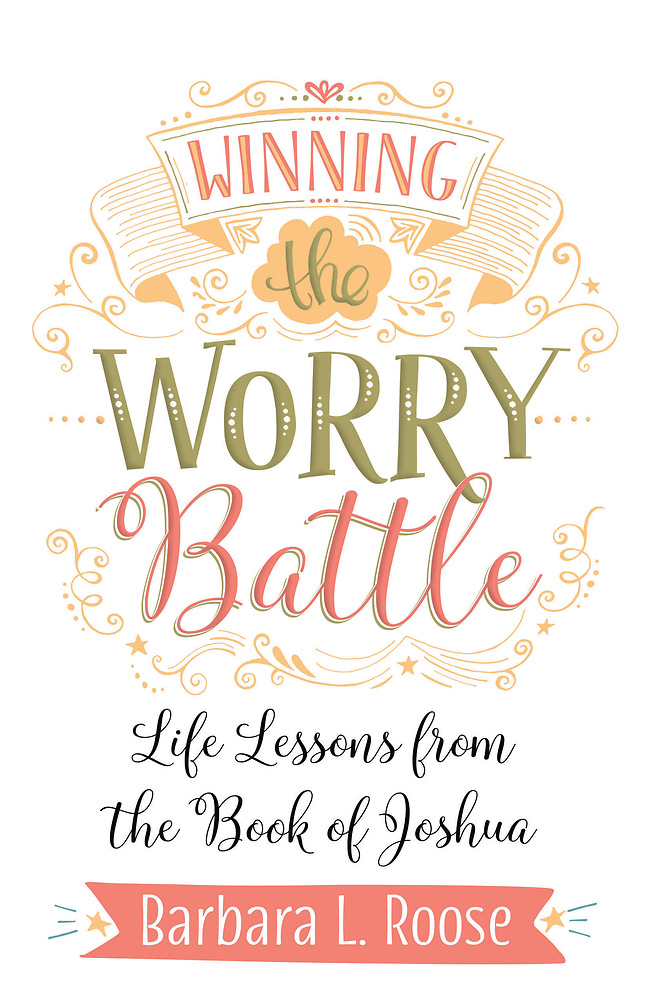 Are you looking for real solutions to deal with your worry battle?
Are you or someone that you know stressed out by worry? There's real help for you! For over 10 years, I've spoken to tens of thousands of people about God's promises. In Winning the Worry Battle, you'll learn about powerful life lessons from the book of Joshua and helpful effective tools that you can use every day to win over worry, no matter what circumstance you're facing. Buy the book, apply the practical tools and wake up energized every day because you're no longer stressed out by the things you can't control.
Order Now!
About the Book
Many Christians do not have a full understanding of what it means to fight the good fight of faith. They try to live by faith but in the face of everyday trials and failures, they find themselves disillusioned and discouraged, wondering if they have done something wrong or if living by faith only works for others. The problem for most is simply a lack of understanding regarding what faith is and how it works.
This book, inspired by the Book of Joshua, reviews three tools a person can develop to Fight In Faith: 1) embracing God's promises, 2) courage and commitment under pressure and 3) practicing radical obedience while waiting for God to deliver your victory.
Just as God gave His people victory over their enemies when they fought in faith, He promises to do the same for us. Following the footprints of bold, courageous faith that God gave His people, we'll be equipped with tools to bravely fight in faith and overcome both our daily struggles and the bigger battles we all face. Through examples of how God gave the Israelites victory over their enemies and generously blessed them, too, we'll be victorious in our fight of faith so that we not only radically transform our own lives but unequivocally impact society.
Endorsements
Barb Roose gives us not only the reasons for the need to limit worry in our lives but also the practical and spiritual tools we need to do more than postpone worry and actually deal with it for the rest of our lives. I love her focus on the freedom that a life of worrying less can bring to each and every one of us. Highly recommended.
– Kathi Lipp, Best-selling author of The Husband Project, Clutter Free and Overwhelmed
Who doesn't want to win the worry battle? Whether it's our health, finances, or relationships, the mental hamster wheel of worry beckons us to constantly turn things over in our minds. Barb Roose shares valuable insights from the Book of Joshua and helps you apply them in very practical ways.
– Melissa Spoelstra, speaker and author of Numbers: Learning Contentment in a Culture of More and Total Family Makeover: 8 Steps for Making Disciples at Home
This book is perfect for people like me who need tangible 1-2-3 advice on how to stop the worry cycle. Barb writes in a relatable fashion, sharing her personal struggles and making us feel connected. She's been there and isn't afraid to talk about it! It's a quick read and one anyone can appreciate!
– Kerri Pomarolli, Comedian with credits including "The Tonight Show" and "Comedy Central," Author of Mom's Night Out and Other Things I Miss
Whether worry creeps up on us from time to time or is an overwhelming presence in our lives, we all have room to grow! I'm so grateful for Barb's voice on this topic. Her bold determination coupled with sincere faith and compassion speak into the frenzy, empathizing and then encouraging and equipping us to fight against the worries we encounter. Take a deep breath, receive the coaching Barb offers, and step into the journey toward a life you crave, a life with less worry!
– Lauren Snyder, Executive Director of Ministry, CedarCreek Church
Barb Roose brings Joshua, a man of tremendous faith in tumultuous times, to life. In her down-to-earth and tremendously encouraging way, she leads you to identify and release your worries in faith, strength, and freedom. Providing a treasure chest of tools and ideas that not only are beautiful but also keep you engaged and hungry for more of the Word of God, this book is for anyone longing to live a fuller, worry-free life of faith and freedom in the Lord!
– Melissa Maimone, speaker and author of Gathering Dandelions
Disclosure of Material Connection: Some of the links in the page above are "affiliate links." This means if you click on the link and purchase the item, I will receive an affiliate commission. I am disclosing this in accordance with the Federal Trade Commission's
16 CFR, Part 255
: "Guides Concerning the Use of Endorsements and Testimonials in Advertising."