At midnight on the day after Thanksgiving, my oldest daughter sailed down the stairs with her iPod on full blast with Christmas music. "It's finally time!" she proclaimed.
In my house, all Christmas music is banned until the day after Thanksgiving. I don't have anything against Christmas music, but I can only hear Mariah Carey's "All I Want for Christmas is You" so many times before I feel a little Grinchy inside.
Now it's Christmas season.
This year, I'm grappling with a few tensions that most of you understand: First, how do I celebrate the holiday without making myself crazy?
Next, I'm dealing with the recent loss of my father, so I'm still adjusting to that new normal in my life. How do I balance the time that I need to grieve with desire to spend time celebrating one of the wonderful times of the year with friends and family?
For the past few years, I've worked on actually planning how I want to experience the weeks between Thanksgiving and New Years'. This planning isn't about what I want to do, but who do I want to be during this amped up, non-stop season.
Here are a few goals that I try to hold onto each Christmas season. Perhaps, one or two of these might inspire you: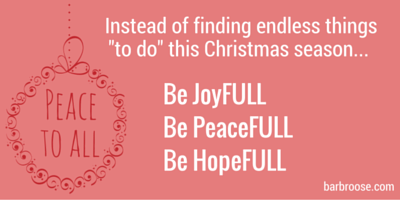 1. Let Christmas begin IN you.
People talk about letting Christmas begin WITH them, like taking the first step. But, what if you and I decided that our Christmas was already complete because of Christ? If our Christmas was already complete, then we can reject the pressure of to-lists, unrealistic expectations, and the materialistic allure of more, more, more. Letting Christmas begin IN me is the attitude that Jesus came to fill in my deepest longings and each day I will celebrate that over everything else.
2. Be JoyFULL.
The perfect Christmas family photo will look great on Facebook, but it won't fill your heart. Planning the perfect Christmas dinner might make you happy in the moment, but what about after the meal is over?
Gratitude will fill the empty place in your heart, even if the kids can't make it home this year or there's less on the tree. Gratitude keeps you from chasing the crazy of Christmas.
Start filling up with joy by listing 25 blessings each day, like enjoying a hot cup of coffee or a well-timed hug from a friend. Making a list of 25 causes you to dig deep and really pay attention to what God is doing all around you that you've likely missed.
3. Be PeaceFULL
Be filled with calm that comes from knowing that you are only in control of one thing this Christmas season: you.
We get all crazy during the holidays because we think everything needs to be done. Everything doesn't need to be done and we don't need to do it.
If you want to do something, then do it. If you have to do something, that's another thing. But, we don't need to be Christmas martyrs. If someone at school doesn't sign up to bring cookies and you don't like to bake them, don't sign up. The kids won't die without the cookies. Same for the office or family gathering.
For all you self-proclaimed martyrs out there, here's one of my favorite movie lines every from Dolly Parton's character in the movie Straight Talk: "Get off the cross, honey. Somebody needs the wood."
4. Be HopeFULL
Even as our world feels crazy and out-of-control, the people in Jesus' time felt the same about Roman rule. Yet, hope was born in manager and most of the world never knew it. The same applies today. We have hope and the world doesn't yet know the same hope that we have. When you live with hope, those around you take notice. One of the greatest gifts that you can give this Christmas season is to share Jesus' hope with those around you.
I'd love to hear from you! Post a comment below and share: Are you dealing with difficult circumstances this year? Which one of the four suggestions above is most helpful for you to focus on this year?
Pssst…looking for a gift idea for your daughter, niece, granddaughter or friend. Click here for a special gift offer!