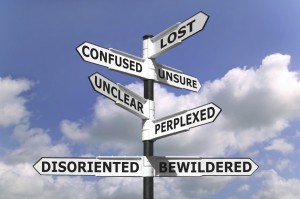 Our trip home from North Carolina was only supposed to take nine hours, expect it actually took 12 hours for my friend, Bobbie and I to get home. We were traveling in the wrong direction not once during our trip, but twice.
The first clue that we might be traveling in the wrong direction happened when we passed a Tanger Outlet Mall about two hours into our trip. Normally, seeing a Tanger Outlet Mall is cause for celebration. Except, that we realized that we hadn't see that mall on our way down two days earlier.
So, I picked up my cell phone and discovered that while I had programmed our final destination into Google maps, I never did one important thing – I never pressed "START."
When you're lost and you don't know it, it's actually not that  bad. After all, you don't know that you're lost. So, we were have a great time! Our cruise control was set at 76 mph and we chatted and laughed like teen girls about the highlights of our trip (more on that later this week!) and we listened to Dr. Brene Brown's TedX podcasts (incredible!).
Noticing the outlet mall interrupted our reverie. All of the sudden, I sensed something wasn't right. For the first time since we'd left two hours before, I picked up my phone and turned it over. There was a sick feeling in my stomach and all of the joy we had been experiencing until that point evaporated into a pile of bummer. Oh no!
We'd been driving 76 mph in the wrong direction for about previous 45 minutes. Not only had I made a mistake, but it was going to take twice the time to fix my stupid mistake. As they say, wasted time is a wasted of time.
Here's quote from Andy Stanley. He's smart dude, who knows stuff that I'll never figure out: "Direction, not intention determines destination."
My friend, Bobbie and I had every intention of getting back home to Ohio, yet our intentions meant nothing because our car was traveling in the wrong direction. In order to get home, our intention didn't matter. We had to change our direction.
Now, back to you. Think about road trips as a metaphor for our lives. There are a lot of "destinations" that we have in life:
We want to have fulfilling relationships…
We want to be financially secure…
We want to have peace or a life free from strife…
We want to get to heaven…
Which "destination" are you trying to get to?  How is your journey going? Do you feel like you are moving closer to the destination (not perfection!)?
If not, what do you need to do differently?  Do you have intentions that are getting in the way of an actual re-direction? CLUE: If you are using the phrase "I'm trying to change," you might consider dropping it. Like Star Wars' Yoda says: "Do. Or do not. There is no try .'"
Now, I also have to confess that once Bobbie and I get ourselves back on track, we ended up getting off doing to wrong direction AGAIN a few hours later. (Feel free to make jokes about women drivers – I deserve it.)  This time, we got distracted by talking. We really wanted to get home to see our families, but momentary distraction threw us off track again. Sheesh…
There are some important journeys that we all make in this life. We have relationships, careers, financial lives and spiritual journeys that must be intentionally navigated. We've got to keep our eyes on where we are actually going and we can't get distracted. Afterall, isn't the destination worth it?  We want to experience the reality of healthy and nourishing relationships, financial security, tranquil living or eternal life – right? But, you won't stumble on these by accident and getting distracted will sabotage your efforts every single time. So, here is a scriptural reminder of the high-stakes journeys that we are taking in this life:
There is a path before each person that seems right,
but it ends in death. -Proverbs 16:25 (New Living Translation)
But, it doesn't have to be that way. The wise person knows how to find and walk the right path. If you are a person of faith, remember how many God-Positioning Scriptures that you have available to lead and guide you to the destinations of forgiveness, relational wellness, purpose, eternal life and so much more.
My favorite GPS (God-Positioning Scripture) is:
Seek the Kingdom of God above all else, and live righteously, and he will give you everything you need.  –Matthew 6:33 (New Living Translation)
Do you have a favorite GPS or God-Positioning Scripture? If so, share it on my Facebook page or in the comments section in order to encourage others. You might just be able to share a verse that someone else can use.