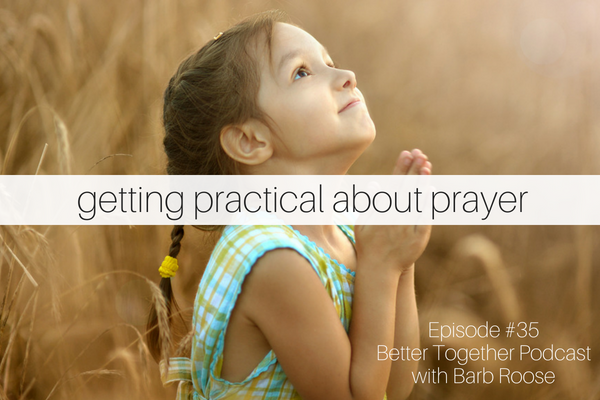 If you've struggled with praying, figuring out what to say, felt guilty about not praying enough, or wondered about does prayer even make a difference, today's episode is for you!
This week's Better Together guest is best selling author, Janet McHenry. Janet is a national speaker and author of 23 books, including six on prayer, most notably the best-selling PrayerWalk and her new book, The Complete Guide to the Prayers of Jesus, which is being released this week.
Janet's prayer walking practices have been featured in magazines such as Health and Family Circle, and she has been interviewed widely on national and local radio programs about prayer and prayer-walking. A recently retired English teacher and academic advisor, Janet and her husband Craig have raised four children in the Sierra Valley, where she loves walking with her Personal Trainer, Jesus.
On this week's episode, Janet and I discuss:
How falling down her steps helped Janet discover a new way to pray;
How God used a baby and single dad to teach Janet a powerful lesson about praying for others;
How to pray "two-sided coin" prayers (love this!)
Hope if you've been wondering if prayer really matters.
Janet will be such an encouragement to you if prayer has been tricky. She gives some great advice as well as shares stories from how others have leaned into prayer for everyday life.
Janet's book, The Complete Guide to the Prayers of Jesus: What Jesus Prayed and How It Can Change Your Life Today, is now available at Christian bookstores and all online booksellers. So many speakers and authors that I admire have amazing things to say about this book.
BEST OF ALL! Janet also sent me a copy to give away to one of you! Just leave a comment on the below about this episode and I'll pick a winner on Wednesday, June 13.
LINKS FROM TODAY'S SHOW:
Janet McHenry's website | Facebook | Prayer Walking
The Complete Guide to the Prayers of Jesus: What Jesus Prayed and How It Can Change Your Life Today
About the Better Together podcast?
Barb Roose is host of the Better Together podcast. She is a speaker and author with a passion to help women win at life with strength and dignity. Barb has been speaking at women's conferences, events and retreats since 2005. She is the author of multiple books and Bible studies, including the new book Winning the Worry Battle and Bible study Joshua: Winning the Worry Battle.
Barb and her husband, Matt are the parents of three daughters, Kate, Sami ,and Abbie. They love their dog, Quimby and a now 10-year old rabbit that threatens to live forever. She loves Jesus, new adventures, her FitBit, chocolate peanut butter ice cream, and fabulous high heels.