"They took me into the counseling room. The doctor gently told me that they tried everything that they could, but they were not able to revive my husband. So, I went home to do the hardest thing that I ever had to do."
Lisa Appelo's life changed forever in just one night.
On this new episode of Better Together podcast, I have a heartbreaking, yet hope–filled conversation with writer and speaker, Lisa Appelo. She's a Florida native and a homeschooling mom to seven kids, now aged 27 to 10.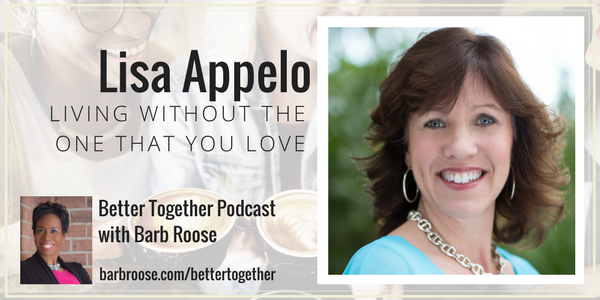 During our interview, Lisa tells us about the night in summer 2011 when she woke up in the middle of the night and realized that her 47-year old husband Dan was having a heart attack. After the paramedics took her husband to the hospital, Lisa went upstairs and noticed her kids huddled together with their arms around each other.
Not only did Lisa face the devastating loss of her high-school sweetheart husband, but the reality of being alone and a single mom to seven kids from college-aged down to just four years old.
In the difficult months that followed, Lisa remembers the powerful presence of friends and prayer holding her family up.
"I do remember thinking and knowing that we were being carried by prayer."
Yet, as you listen to our interview, you'll hear the incredible hope that Lisa share about the blessings and abundance of God. She talks about the pain of walking with her kids through the loss of their dad and the practical ways that she helped her kids open up and talk about their fears and loss.
During this episode, Lisa encourages us to remember:
Grief comes in many forms and we don't get over it, but we do learn to "live where we are";

We learn to live with the love, but without the person;

God has as much abundance planned for us AFTER our loss as before our loss.
SHARE YOUR EXPERIENCE IN THE COMMENTS BELOW: Is there a place in your life affected by grief? Have you lost a loved one, a dream, or a relationship? How are you dealing with your grief and what resources do you find most helpful in the grieving process?
CONNECT WITH LISA:
Lisa' website | Twitter | Instagram | Facebook
100 Days with Christ Bible Study Journal and Reading Plan
FIND OUT MORE ABOUT FINDING JOY LADIES NIGHT OUT EVENT! Click here for more details!