Do you ever battle insecurity?
We all do! Even if usually you feel like Confident Connie on a good hair day, there are times when our inner critic pipes up and whispers, "You'll never pull that off."
Some of us grew up in homes hearing "You're useless" or "You can't do anything right." Those words planted seeds of insecurity in our hearts. For others, a big mistake or a crushing failure planted a powerful seed of insecurity in our hearts.
Insecurity whispers "You'll never be good enough, no matter how hard you try."
When we're insecure, we're always second-guessing ourselves, even when we know we're doing the right things. When we're insecure, we're afraid to look toward the future in hope because we fear pain and failure.
But, what does God say to us and our insecurities? I love the words of Jeremiah 29:11 – some of you already know these words by heart:
"I know the plans I have for you," says the Lord. "They are plans for good and not for disaster, to give you a future and a hope."
God is not planning disaster for us. He's not planning disaster for you, my friend. Yes, we'll encounter hardships and tests to grow our faith, but through faith, we can walk with confidence in God's plan for our lives.
If you're always second-guessing yourself, but you want to dream big dreams, I want you to listen to my interview with award-winning author, Catherine West. I met Cathy a few years ago at my literary agency retreat and she's real and lovely and someone that you can totally relate to!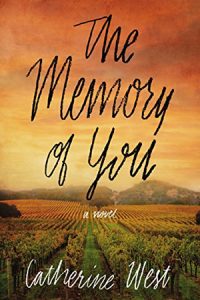 On this episode of Better Together, Cathy and I will talk about her battle to overcome worry and insecurity. All of us will benefit from Cathy's five life lessons about how to get off the ledge of insecurity as well as having the guts to go for our dreams. If you don't have time to listen, click here to access those five life lessons on Cathy's website.
By the way, Cathy's new book The Memory of You just released a few weeks ago – it's amazing! Click here to find out more about this story of a woman who deals with PTSD after the death of her sister. She discovers the freeing power of forgiveness, confession and faith.
About Catherine West…
INSPY Award-winning author Catherine West writes stories of hope and healing from her island home in Bermuda. When she's not at the computer working on her next story, you can find her taking her Border Collie for long walks or reading books by her favorite authors. She and her husband have two grown children. Catherine's novel, Bridge of Faith, won the 2015 Grace Award. Catherine's latest novels are The Things We Knew (July 2016) and The Memory of You (March 2017), Harper Collins Christian Publishing.
Catherine loves to connect with her readers and can be reached at Catherine@catherinejwest.com
Website http://www.catherinejwest.com
Facebook – https://www.facebook.com/CatherineJWest
Twitter – https://twitter.com/cathwest
GoodReads – https://www.goodreads.com/author/show/4715219.Catherine_West
Pinterest – http://www.pinterest.com/cathwest/
Google + – https://plus.google.com/u/0/108781711729974539211/posts
Instagram https://www.instagram.com/cathwestwrites/
Amazon – http://www.amazon.com/Catherine-West/e/B004RWZUHK/ref=ntt_athr_dp_pel_1