"I read Bill's words as he confessed that he had lied to his family and had stolen, and spent, $1,000,000 from his aunt's trust fund. It was obvious he confessed at trial to get a reduced sentence. I was numb and in shock. I had asked God for the total truth but had never dreamed that the truth would be so painful.
How could my husband and best friend, who I had known since I was five, be a liar, a thief , and a convicted felon? It was excruciating." -from Lynn's Story: A Journey of searing, Inspiring Growth and Ultimate Healing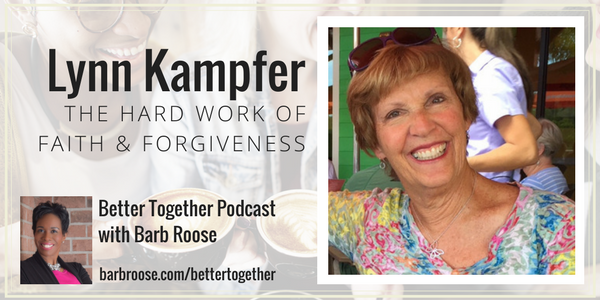 For over 30 years, former corporate trainer Lynn Kampfer lived what most people would consider the American Dream. Married to her childhood sweetheart and raising two kids, Lynn and her family enjoyed the best that life had to offer.
Yet, as Lynn began to search for God the outer edges of her lovely life began to crack and crumble. In this episode of the Better Together podcast, Lynn shares not only her dramatic story but more importantly, incredible lessons learned about God's faithfulness, provision, forgiveness, and hope. Lynn will definitely inspire you as she shares about surviving breath-taking heartache and how to thrive even as life takes an unwelcome left turn.
As you listen to today's podcast, I want you to draw hope and encouragement from Lynn's story especially if you feel like your life is falling apart.
What you'll hear from today's podcast:
How God plants seeds in our lives, even when we're unaware;

Even after rock bottom, things can always get worse;

When you don't forgive, you're in a prison doing

hard

time with the person who hurt you;

Two important things to know and do when beginning the journey toward forgiveness;

How God never abandons us when the unthinkable in life actually happens.
Forgiveness is a difficult and often misunderstood concept.
There's not enough space in this post to properly cover the topic, but I hope that you listen to Lynn's podcast because you can learn a lot from her journey to forgiveness. It wasn't easy, but she is so wise in how she journeyed through it.
POST A COMMENT BELOW: Can you tell us about your forgiveness journey? What was hard? How did God help you? If you're still struggling, how can we pray for you?