Congrats, Pixar. You made me cry during another one of your movies. Again.

My hubby, two younger daughter and  I went to see "Inside Out" a few days ago. Imagine my annoyance when I had to reach for a tissue. It's a cartoon for goodness' sake! I think that making adults cry at movies is some kind on conspiracy. In fact, my conspiracy has a name. I call it the "Bambie Effect." 'Cause upon a time, Disney killed off Bambie's mom and made adults cry. Walt's people got away with it and Pixar has perfected the art of making adults cry at animated movies. #Up #ToyStory3
"Inside Out" is a movie about feelings. Yep, feelings finally got their own feature movie. This digital psychological journey animates all of the emotions that we have at some point or another. We meet colorful and interesting emotions named Joy, Sadness, Fear, Anger and Disgust. Movie watchers observe the dynamics and dynamite between those emotions as they struggle to help the main character, Riley, navigate her feelings after moving cross-country with her family.
It doesn't take long before I realize that the movie's theme presses us with the following question: Can our dogged pursuit of happiness actually hurt us?
The answer is yes. We watch as well-meaning Joy ends up causing Riley most amount of pain in the movie.  As I watched Joy's well-intentioned efforts cause pain and mayhem, a few thoughts came to mind during the movie:
When happiness is our highest goal, we're tempted to manipulate what we value in order to achieve it.
How often do we long just to be happy? We want to be happy. We want to make other people happy. Yet, our pursuit of happiness might be at the expense of other more important things.
In her singular mission to try to keep Riley happy, Joy moved and manipulated the other emotions out of her self-righteous way.  If Riley was in the midst of a bad day, Joy raced to replace Riley's bad memory with a happy one. If Riley had a nightmare, Joy rushed in to whisk it away. As Joy bounced all over the command center switching and moving memories  to keep Riley a happy girl, we had an impending sense of doom.
When things in our lives starts sliding in the wrong direction, we start clawing for happiness because anxiety, pain and anger just feel bad. There are times when we feel like we're stuck on a losing streak, right? Our car breaks down. Then, the basement floods. Next, our kids' get sick or we break the screen on our iPhone. When we have so many bad feelings, we are desperate to feel good. If we get desperate enough, we'll grab for happiness wherever we can find it – even if it's not good for us. You can fill-in-the-blank for whatever that might be  for you: overspending, overeating, sexual irresponsibility, theft, etc. Have you ever made a bad decision because you wanted to enjoy a good feeling?
As the movie unfolds, young Riley's distress mounts. The other emotions call out caution, but Joy pushes for happiness. She didn't want Riley to dwell on sad memories. Furthermore, Joy doesn't want listen to the other emotions' input. I cringed as i watched Joy rush to phrases I've used before: "Let's focus on the positive and what's going right" or "It will be just fine."
Sometimes, we need to lean into our sadness…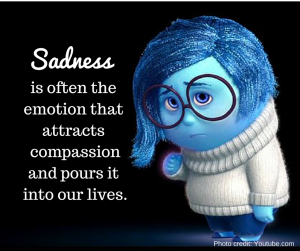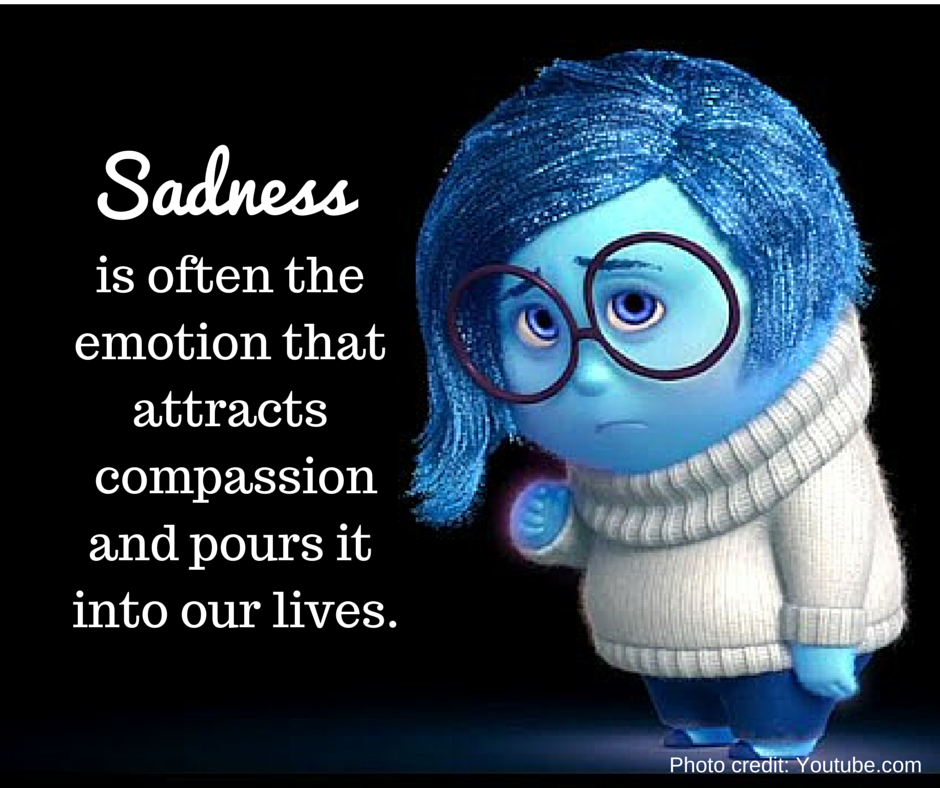 I learned the most from Sadness in the movie. I'm an realistic optimist. I know that bad things happen in this world. I'm not stranger to problems and heartache, but I maintain my optimism. So, the movie's character, Sadness, grated on my nerves. Sadness shuffled around with seemingly nothing to offer. There were problems to solve and frankly, Sadness wasn't helping. At one point, Joy drew a circle and asked Sadness to step inside and stay out of the way. As rude as that moment seemed, I've been guilty of something similar. If I just stay positive…No negative thinking…
As the movie went on, Joy and Sadness were separated from the rest of the emotions. This ends up being a good thing. There is a pivotal scene where Sadness creates an opportunity for another character to grieve and move on past a painful event and smile again. Joy realizes letting Sadness be a part of Riley's memories wouldn't ruin the joy of those memories. Instead, Sadness gave Riley's memories much more impact and depth.
This is a deep and profound truth for all of us. 
My most precious memories are made up of heartbreaking moments combined with the presence of treasured friends. In difficult moments, sadness is the emotion that slows us down so that others can care for us.
Sadness creates space for friends to sit with us in our despair and let us know that we are not alone. During sad times, friends embrace us and comfort us just by being there. Sadness is often the emotion that attracts  compassion and pours it into our lives.
If heartache is part of our humanity, then it's possible for sadness to be a gift.
Imagine how cold and callous we would be if bad things happened and we didn't pause to feel them deeply or acknowledge their impact on our lives? Pretending that life doesn't hurt actually hurts us. Pretending that we aren't wounded may actually come from a place of pride. We don't want others to know that we are just like everyone else. If I am not careful, this is the very place I can end up.  The healthiest of humans know that deep pain cannot be healed in a vacuum. Time does not heal all wounds, but friends can. And we should not be afraid or ashamed to let others comfort us.
Compassion is powerful and helps us heal. Often, won't realize how much we need compassion until we receive it. We shouldn't be afraid to let others who us compassion, especially since the givers of such compassion have experienced the power of receiving it. Here's a verse that I think of when I hear of sad moments. This is a great reminder and prompt for people like me, who can underestimate the power of sadness, comfort and compassion:
All praise to God, the Father of our Lord Jesus Christ. God is our merciful Father and the source of all comfort. He comforts us in all our troubles so that we can comfort others. When they are troubled, we will be able to give them the same comfort God has given us. -2 Corinthians 1:3-4 (New Living Translation)
STUFF TO THINK ABOUT:
How has sadness or heartache prompted you to refocus or prioritize your life? When's the last time you let someone be there for you during a time of great sadness? How did their presence impact your life?
Thanks for checking out this week's post! Did you see "Inside Out"? If so, I'd love to hear your thoughts. If you think this post might bless someone else, please hit the "share" button at the top of the post. God bless!