A few weeks ago, my 20-year old daughter boomeranged back into my empty nest. 

My beautiful girl attends nursing school at the local university. Due to the virus, much of her education is online via Zoom at home. What's challenged me lately is NOT sticking my nose into her class schedule to issue well-meaning reminders like, "Do you need to get up and log onto class?" or "I noticed that you've been on TikTok for six hours, shouldn't you be studying?"
None of that is my business. Why? She's 20 years old. She is an adult. She pays for her own schooling (academic scholarship!) and she was smart enough to get into nursing school. So, it's none of my business if she sleeps through her classes, studies or if she blows it all off.
Some of you are thinking, Barb, but what if she fails? or Com'on Barb, good moms give reminders!
I discovered that fear and pride were behind my control-loving behaviors like nagging and helicoptering (micro-managing). I've had to wrestle with fear-thoughts like "If she sleeps through that class, she might fail her test" or pride-thoughts like, "I will give her a this quick reminder and make her do what she should be doing."
I could give reminders to calm my fears or satisfy my pride. However, God desires for us to live by faith, not fear (1 John 4:18). Also, people don't like to be controlled. People really don't like for us to try to fix them. Our fear and our pride is ours to manage. Thankfully, God's already secured victory for us!
So rather than give up and get frustrated or give into fear, there's one more choice:
Surrender. Let go and give it to God.
I have to let all of that go. Sure, I'd hate for her to fail out of nursing school (she's not – she's doing just fine!) and I definitely think that she needs to be on TikTok less. But that's not my business either.
I have to let go because I am not in control of her life.
But, then what?
When we let go, then what do we hold onto so that we don't try to take control again?
Years ago, I learned a series of slogans while attending a family recovery support group because of my family member's alcoholism. For years, I tried to control out of extreme fear and destructive pride. Those recovery slogans equipped me with the tools that I needed to step back and let go of control. Even though they weren't based on scripture, God used those slogans to bring incredible peace and calm into my heart and mind – even though our family situation spiraled out of control. I was often heart-broken, but I stayed calm.
Over the years, I developed my own slogans, essentially six statements based on God's promises, provision and peace that I can hold onto when I let go of control.
Now, I want to give you the six powerful Surrender Principles from my Surrendered: Letting Go and Living Like Jesus Bible study based on God's Word that you can hold onto when you let go of control.
Six Surrender Principles
Surrender Principle #1: I am not in control of others or outcomes.
Surrender Principle #2: I choose to live by faith, not rush to follow my feelings.
Surrender Principle #3: I can always let go and give my problems to God.
Surrender Principle #4:  Trusting God's promises will bless me, but pushing my plans will stress me.
Surrender Principle #5: When fear tempts me to flee, fix or force my way, I will choose to stop and pray.
Surrender Principle #6: Surrender is my only path to God's peace, power and provision.
These principles work because they point you toward God rather than your struggling person or problem. Use them early. Use them often! But, it takes time, so be patient with yourself. (IDEA: You can do the Surrendered Bible study to give God an opportunity to transform your control-loving struggles into more focus on Him!)
BONUS: Click here for a printable of these six Surrender Principles!
CONCLUSION…
For my situation with my daughter, I'm using tools #1 and #4. She's doing just fine in managing her life, I'm the one who has to let go of of my fears or the pride in thinking that she can't keep her life together without my help.
I repeat these Surrender Tools early and often so that I can wrap myself in God's peace and trust that He is in charge of her life and not me. 

I'D LOVE TO HEAR FROM YOU! COMMENT BELOW:
1. What person or problem do you need to let go of and surrender to God right now?
2. Which one of these Surrender tools do you too need to hold onto, memorize and repeat to yourself when you're tempted to control?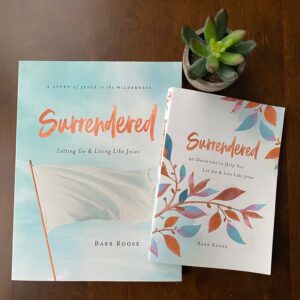 Let Go and Live Like Jesus!
Are you a control-lover? There are five control-loving behaviors that trick us into thinking that we can fix the people and problems in our lives. However, when we try to control what we can't control, it often leads to chaos in our lives.
Are you tired of feeling stressed out and afraid of what you can't fix or control? There's hope!
Check out the Surrendered: Letting Go and Living Like Jesus Bible study or book, Surrendered: 40 Devotions to Help You Let Go and Live Like Jesus. Learn from Jesus' example AND six powerful tools that equip you to let go and experience God's power and peace!