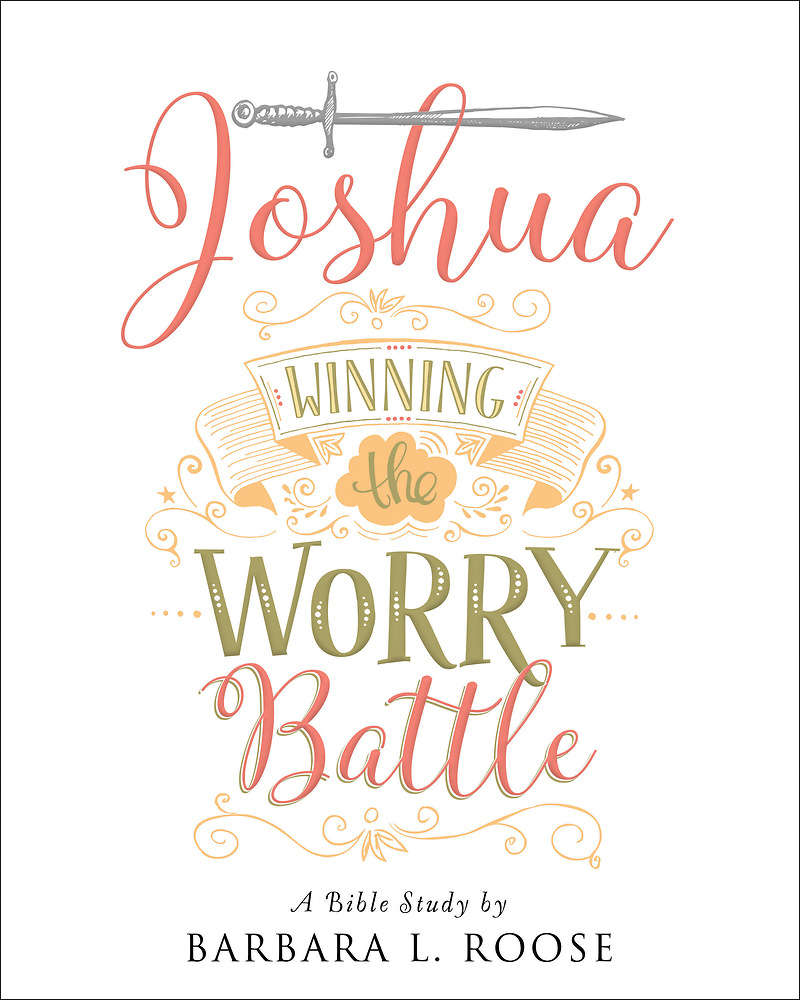 Do you or someone you know struggle with worry or anxiety?
Do you or someone you know struggle with worry or anxiety? Join me for a six-week in-depth study on the book of Joshua where we'll explore powerful Biblical principles and learn practical tools that really work so that you can end your stressed out days and sleepless nights. Buy the book, apply the tools and wake up each day feeling energized and at peace because you'll be equipped to handle any difficult situations that comes your way!
Order Now!
About the Book
In this six-week Bible study on the Book of Joshua, we will join God's people as they arrive on the edge of the promised land only to find themselves in hostile territory, faced with fear and uncertainty. As we dig into the story of how Joshua and the Israelites claimed God's promised victory, we'll discover that winning the worry battle requires more than having faith; it requires learning to fight in faith! Following their bold, courageous footprints, we'll learn how to fight in faith as we internalize God's promises, draw strength from God's faithfulness, act in obedience to God's commands, and believe what our limitless God can do. Through in-depth study of how God gave the Israelites victory over their enemies and generously blessed them, too, we'll be equipped with biblical wisdom, encouragement, and practical tools that will enable us to overcome our daily worry struggles as well as the bigger battles of fear that we face.
The participant workbook includes 5 lessons for each week with space for recording reflections and answers.
Other available components, each available separately, include a Leader Guide, DVD with six 20-25 minute sessions (with closed captioning), and boxed Leader Kit containing one of each component.
Endorsements
Barb Roose brings Joshua, a man of tremendous faith in tumultuous times, to life. In her down-to-earth and tremendously encouraging way, she leads you to identify and release your worries in faith, strength, and freedom. Providing a treasure chest of tools and ideas that will keep you engaged and hungry for more of the Word of God, this study is for anyone longing to live a fuller, worry-free life of faith and freedom in the Lord!
– Melissa Maimone, speaker and author of Gathering Dandelions
This is perfect for people like me who need tangible 1-2-3 advice on how to stop the worry cycle. Barb writes in a relatable fashion, sharing her personal struggles and making us feel connected. She's been there and isn't afraid to talk about it! It's a quick read and one anyone can appreciate!
– Kerri Pomarolli, Comedian with credits including "The Tonight Show" and "Comedy Central," Author of Mom's Night Out and Other Things I Miss
Whether worry has crept up on you from time to time or has been an overwhelming presence in your life, we all have room to grow! I'm so grateful for Barb's voice on this topic. Her bold determination coupled with sincere faith and compassion speak into the frenzy, empathizing and then encouraging and equipping us to fight against the worries we encounter. Take a deep breath, receive the coaching Barb offers, and step into the journey toward a life you crave, a life with less worry!
– Lauren Snyder, Executive Director of Ministry, CedarCreek Church
Who doesn't want to win the worry battle? Whether it's our health, finances, or relationships, the mental hamster wheel of worry beckons us to constantly turn things over in our minds. Barb Roose's in-depth study on the Book of Joshua will draw you deep into God's Word and help you apply the truths you find in practical ways. In just the first few pages, I found truth, encouragement, and tools that brought me to a place of victory in a worry battle of my own!
– Melissa Spoelstra, speaker and author of Numbers: Learning Contentment in a Culture of More and Total Family Makeover: 8 Steps for Making Disciples at Home
Disclosure of Material Connection: Some of the links in the page above are "affiliate links." This means if you click on the link and purchase the item, I will receive an affiliate commission. I am disclosing this in accordance with the Federal Trade Commission's
16 CFR, Part 255
: "Guides Concerning the Use of Endorsements and Testimonials in Advertising."