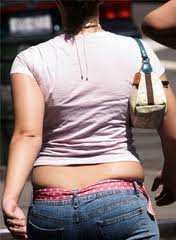 We're friends, right?
And even if you aren't friends with me on social media or I haven't been to your house to eat up your ice cream, you should know this about me: I really care about you.

I want you to wake up every morning and smile at yourself in the mirror – even with wicked bedhead and fuzzy teeth.
I want you to fling open your closet doors and slide into tops, bottoms, shoes or accessories that look like your "best you."
Yet, there's one thing that's keeping you back. And, it's the thing that I'm about to share with you.
My sweet, beautiful friend – lean in closely and read carefully:
GET RID OF THE CLOTHES THAT NO LONGER FIT YOU!
Sorry about the all caps action, but I wanted to make sure that you heard me. I feel bad – I know I just yelled at you. Why? Because I wanted to shout out what you've been thinking every time you put on those faded Mom-jeans, shapeless t-shirt or too-small top that won't stretch anymore.  I know you hate getting dressed in the morning because you don't like what you see in the mirror. In this post, I want to shine some hope into your hearts. So, first let me remind you of an important truth that you might have forgotten:
YOU ARE BEAUTIFUL.
(You know that  I just saw you roll your eyes.). I know that many are discouraged by society's obsession with perfection. But, the truth is that you are beautiful because God created you. Yet, I know that the images and messages around you have obscured that truth and you may not see it as clearly as you did at another time in life.
Beauty is a topic worth our attention. Too many women underestimate the impact of what we see in the mirror. Just get over yourself. Yes, that's what we say to ourselves in the mirror. Oh, it's not that important. That's what we tell ourselves right before the tears stream down our face. Friends, beauty isn't just about how we look, it's about the impact on how we think and live. Who we are on the inside DOES matter most. But, how we think and present ourselves physically matters, too. You will connect more freely with the world around you if you feel better about yourself. Think about the people that you could love and serve if you weren't so self-conscious or preoccupied with your size, shape or style.
Does it really matter if you get rid of the clothes that don't fit?
Yes. Because every time you look at them, you attach meaning to those clothes. You know that you shouldn't, but you do. So, I believe that what you own should be the reflection of your "best" you. Even if you toss out everything and have one amazing paid of jeans and one incredible shirt, that's infinitely better than a closet full of those that make you sad. Don't wear clothes that make you sad!
Ten years ago, I felt bad on the inside and out. On the outside, I wore shapeless t-shirts, gigantic sweaters, awful fitting Mom-jeans, etc. because I just didn't care. Inside, I was overcome with disappointment, broken dreams and missed expectations. My clothes made me sad. Frankly, I didn't care. Ever felt that way? Then, one day, a friend suggested that I simply put on a pair of earrings. Now, we both knew that earrings weren't going to fix my life, but it forced me to take a moment to care for myself. This triggered something inside of me.
One day, I started watching Clinton and Stacy on "What Not to Wear" and took notes on the clothes that women with my body shape were wearing. Buying new clothes wasn't an option back then, so I decided to check out the Goodwill. Surprisingly, I found labels like Ann Klein, Banana Republic, Ralph Lauren, Gap and New York & Co. on those second-hand racks. When I stood before the mirror, wearing clothes that actually fit well, I cried. Why? I no longer saw  a 31-year old woman broken down by her life. Instead, I saw a woman who was standing tall with a smile on her face. It felt great. I felt great.
I went home and got rid of everything that didn't fit or didn't not make me feel great about myself. for awhile, I wore the same clothes a lot, but I added great-fitting clothes as my budget allowed. These days, I can buy more, but I don't. Why? I have one other important rule: I only buy what I absolutely, positively LOVE. If I don't love it, it stays on the rack.
Now back to you: Is it time for you to care for yourself? Are you ready to get rid of the clothes that bum you out when you put them on? Even if you are down to one pair of pants and two shirts, if they make you feel like a million bucks – great! Rebuild from there. In the end, remember this: If it doesn't "fit", get rid of it!
Q4U (Question for you): What is one article of clothing that you've held onto for FAR too long? How long have you had it? Why do you hold on to it?
I'd love to hear your answers. Just take a moment to comment and let's encourage each other! If you think this post could encourage another woman, feel free to share it up! By the way CLICK HERE to check out my new book, Enough Already: Winning Your Ugly Struggle with Beauty. Thanks for stopping by today,