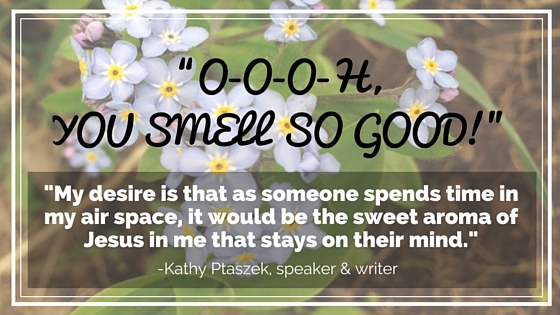 We women don't want to stop at just looking good – we want to smell good, too! As a matter of fact, an entire industry has been created to cater to that desire. Walk by any department store perfume counter, and you will see exotic names that promise romance, intrigue, mystique, and so much more: Endless Euphoria, Spellbound, Beyond Paradise, Pleasure, and Viva La Juicy, to name a few.
As a 13-year-old girl, I remember the awakening of my "feminine mystique." I heard that every woman should have a signature fragrance – one that would speak of her essence and create a fragrant identity. I chose a perfume named "Wind Song." It advertised, "Your Wind Song stays on his mind." As a boy-crazy teenager, I was all about that!
When I shared that story years later, a friend laughed and said, "Oh, Honey! You were so innocent! If I had a signature fragrance in my youth, it would've been 'My Sin' by Lanvin!"
When my daughters were in high school, we shared a bottle of Calvin Klein's CK-One. Once as a friend climbed into the car with the three of us, he sniffed the air appreciatively, and said, "That's the Ptaszek women's smell!" Signature fragrance? Nailed it!
I must admit that I still enjoy hearing someone say, "O-o-o-oh, you smell good!" However, although I do occasionally wear perfume, these days the scent that I hope would be my signature fragrance doesn't come in a bottle, and no amount of money can buy it – it's the fragrance of Christ. My desire is that as someone spends time in my air space, it would be the sweet aroma of Jesus in me that stays on their mind.
2 Corinthians 2:14-15 NIV says, "But thanks be to God, who always leads us in triumphal procession in Christ, and through us spreads everywhere the fragrance of the knowledge of him. For we are to God the aroma of Christ among those who are being saved and those who are perishing. To one we are the smell of death; to the other, the fragrance of life."
What is the fragrance of Christ? English theologian F. B. Meyer said, "Wrap the habits of your soul in the sweet lavender of the Lord's character." If there is any fragrance more delightful than lavender, would someone please tell me! Whether it's in candles, sachets, lotions or scented soap, I cannot inhale lavender deeply enough. Better than lavender, I think Jesus emitted the sweet aroma of grace.
When Philip Yancey was doing research for his best seller, What's So Amazing About Grace?, he surveyed strangers by asking, "What comes to mind when I say 'evangelical Christians?'" Not one person gave a description that sounded anything like grace. Yancey concluded, "Apparently, that is not the aroma Christians, in general, give off in the world." Sisters in Christ – let that NOT be said of us!
How do we put on the fragrance of Christ? Have you ever hugged someone, and then realized that the scent of their perfume or aftershave lingers on you? Let it be the habit of your soul to press in close to Jesus. Embrace Him by spending time in God's Word. Pray that God will make you more like Jesus: grace-filled, merciful, peace loving, humble, servant-like, nonjudgmental, compassionate, and forgiving. The world is hungry for these things! People will want to be in your air space if you are giving off "the sweet lavender of the Lord's character."
You might want to consider finding another woman whom you've noticed spreading the fragrance of Christ, and asking her to mentor you. Ask her how she got what she has. Be willing to cultivate the spiritual disciplines that will help you get to know Jesus better and love Him in a deeper way.
It is said, "You are known by the company you keep." Keep company with Jesus, and it will show! The apostles did, and the religious leaders "were astonished, and they took note that these men had been with Jesus" (Acts 4:13b)
One day in church, as the service ended, a college student put her head on my shoulder and began to sob. Sitting under secular professors had taken its toll. She said, "I don't know what I believe anymore, but I see Jesus in you – He's so real in your life." She saw Jesus. She smelled the sweet fragrance of Him, and it melted her heart.
Let the fragrance of Jesus be your signature fragrance. May it be the sweet smell of grace that makes people exclaim, "O-o-o-oh, you smell good!"
Kathy, thank you so much for sharing such tremendous inspiration and wisdom with us! Ladies, I encourage you to check out Kathy's blog, Holy Ground All Around and follow her on Facebook. She's been a friend of mine for many years and I've been so blessed by her wisdom and faith. Thanks for stopping by today! You can share your thoughts with Kathy by leaving a comment below and you can share this post with your friends by hitting the share buttons. Have a great day, ladies!