I appeared on 13abc's "Full Plate," hosted by Rebecca Regnier to talk about my new book, Enough Already: Winning Your Ugly Struggle with Beauty. This was my first television interview related to the book and goodness, Rebecca made me feel so very confident and comfortable! I had great time! Here's the interview – BUT keep scrolling down after the interview! Don't miss this bonus: Rebecca graciously agreed to be interviewed for this week's post. You can read her interview below the video. Enjoy!
MY INTERVIEW WITH REBECCA REGNIER…As a long-time television personality and media professional, Rebecca understands the pressure and scrutiny that women face from others as well as themselves. I was thrilled when Rebecca agreed to let me interview her and share some of those thoughts with you!
Rebecca, you are public figure, so how much pressure do you feel to look or dress a certain way? How much of that pressure comes from within?
 Incredible pressure, I'd say about 30 percent? It depends on the day. I am very okay with age, weight, and all that, but sometimes you just feel less than. It's a fight to just give that up and be happy in your skin!
How do you handle situations where people make unsolicited comments about your appearance, whether positive or negative comments?
 I usually feel like the comments are more about them, the negative ones I mean. I am a fairly modest dresser and I had a nasty comment once that the viewer can't take healthy eating advice from me unless I show my body more. That's not about me. If they're mad at me because I'm not a stick-figure, that's their issue. I'm a healthy, confident person – ask yourself why you have a problem with that next time you lash out at me. That said, most people are very nice.
 When it's a nice comment I have to better learn to take the compliment and not deflect. Self-deprecation is fine, funny, and can be charming, but I tend to be terrible at accepting a compliment. I've worked on saying "thank you" and moving on instead of tearing myself down in the name of comedy.
In 2011, you released a book called The Twitter Diet. What is your book about and how can we leverage social media to encourage and support each other as women trying to reach our goals? 
The Twitter Diet is all about community and support. None of us have to be alone in whatever struggle we face whether it's better eating, more exercise, motherhood.
The great thing is we can be supportive and get support. But keep that in mind, it is a two-way street, if you want to be lifted up you must first show people how. Be supportive and you'll be surprised how many people are there in your time of need. And don't forget to ask for help! I am terrible at that, I tend to "go it alone" thinking I'll handle everything. Every single time I'm overwhelmed and reach out I am so incredibly amazed by how great people can be. They do want to help you.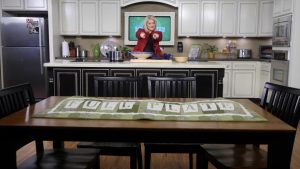 Speaking of social media, there are so many messages that women absorb about beauty. How do you keep a healthy perspective about beauty as you watch articles, images and stories that flow through your newsfeed?
There is no one like me or you. Period. And while we're bombarded by what we're supposed to look like it is all ridiculous. Let models be models. I'm a witty, accomplished, career woman, wife, mother so are you. I know my value and what I have to offer and it does not have to do with smooth skin or size whatever.
 My accomplishments and failures have zero to do with whether I was wearing skinny jeans or sweat pants that day. Zero.

As a woman, what do you think about when you look at yourself in the mirror?
Well, I think I have nice eyes that I look better when I smile, that the deep furrow in my brow was earned from being a mother of two sons and I wouldn't erase it.
I'm less forgiving about my body, I am not a fan of some parts, I pick it apart if I catch it in a three-way mirror. I wish I had Michelle Obama or Kelly Ripa's arms but I also remind myself that maybe if they met me they'd wish they had Rebecca Regnier-calves. I have nice calves sister. It's all relative and we just have to appreciate all we can do. Someone said to me once that no matter who you are, ten years from now, you'll wish you had this body/face. So, stop stressing out and enjoy the now of yourself.
I discovered that you are a certified fitness nutrition coach and a certified weight loss specialist. What inspired you to acquire those certifications and how do you use them?
I wanted something official. I knew a lot from reading everything out there and discovering what worked for me. So the certificates were more about formalizing it. I felt confident in what I knew and advise people in my writing and on my television show but I thought it was important for others to see that I had more than just life experience. I wanted to increase the trust that people I'm encouraging or supporting have in me.
What are you dreaming of next in life?
THIS LIFE! Writing a romantic comedy novel, creating hilarious videos for my YouTube channel, stand-up paddle boarding in the Virgin Islands!
Rebecca, I've got one final question – perhaps the most important of them all: Milk chocolate or dark chocolate?
My fitness nutrition brain says dark! But my inner five-year old says milk chocolate, baby!
Thanks, Rebecca! We love your amazing and authentic answers as well as your encouragement to women everywhere!
Ladies, you can watch Rebecca's show, "Full Plate", every Sunday on 13ABC and just recently announced that she's joined "MomsEveryday", a show to connect moms and families that broadcasts nationwide – so cool!
Thanks for stopping by today, ladies! If you'd like to receiving weekly encouragement or inspiration from me each week, subscribe to join my mailing list on this page. It's easy and most importantly, your email address will stay between you and me!
God bless,