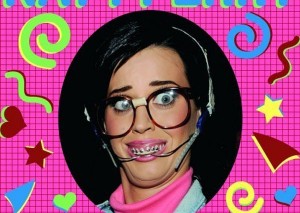 Earlier this week, my youngest daughter, Abbie, turned 13. We are not quick to spoil our kids, but she hit the motherlode this week. First, her oldest sister flew home for the week as a surprise. Then, my mom got her a new phone (Tracfone smartphone with triple minutes, y'all). Instead of a party, Abbie asked Matt and I for an iPod. And we gladly bought one – slightly used, but new to her. Truth be told, I would have bought her a car if that meant we didn't have to have a sleepover party. #fo'sho. Being 13 is turning out okay for Abbie. I don't have such fond memories of that time period of my life.
At 13, I was a hot mess.
Maybe you were doing okay at that age. Not me. I was a waaaay too tall (actually BIG – I was 5'8″). I was AWKWARD in the most ALL CAPS of ways. I wore thick glasses and had acne. In the many years since that not-so-fabulous time of life, I've wondered if maybe, just maybe, I've exaggerated my memories of those desperate years.
Turns out, things were more awkward that I remembered. A couple of weeks ago, I found my junior high journal in the attic. I flipped through the pages careening down an overly dramatic memory lane. That journal recorded what I loved, hated, dreamed about and feared. And, if I am honest, there's still a thump of that 13-year old heart that beats in 41-year old me.
Thanks to social media, I've reconnected with a lot of the people I wrote about all of these years ago in my little jounral. Some friends, I'm thrilled to chat with via Facebook. Other individuals I NEVER expected to think about again once we said 'good-bye' to Medina High. Just in case they never wanted to be associated with me ever again, I substituted "dude" instead of their actual name. I could have thought of another way of doing things, but as a one of my blogging mentors says*: Just whatever, man.
Here's an peek into my 13-year old hot mess-ness:
Saturday, November 1, 1985
Sorry I haven't written, but I've been really busy [even back then, really?]. Well, volleyball went just fine. Dude came to all of our home games. I don't like him, but I do. Every time I see him, I want to punch him and kiss him, too.
Once upon a time, I was passive-aggressive…[maybe I still am. A little. Not much.]
In review of my journal entries, it seems this young man was in a long line of young men that I wanted to simultaneously punch and kiss. I should tell you that none of those young men ever got kissed…or punched.
Okay, so audience participation in the next journal entry. Feel free to analyze what I could have possibly thinking in this next statement:
This weekend was one of the worst in my life. Dude #1 asked me to go with him. I told him we could be friends. I talked to Dude #2 today and asked him to tell Dude #1 that I'm not good for him and all that stuff. I told him that's what he does best.
Yesterday, Dude #1 told me to get off the jive that I said I wasn't pretty. I hope this turns out better because I can't stand it.
This is the stuff that probably explains why I never was asked to prom in high school.
Of course, four days later, my two dude crisis was averted and there was an ALL CAPS entry about making Honor Roll. My attentions were also diverted to another young man that I haven't seen since junior high. Hmmm….I should look him up on Facebook…
Think back to when you were 13 years old. What did you love? What did you hate? What did you do that you were proud of? Do you still see any of 13-year-old-you in grown-up-you? If so, is that a good thing? If not, what have you lost – and should you try to get it back?
As I flipped through the pages of that journal, I think about how much that 13-year girl didn't know about her life. She didn't know that college would be MUCH better than junior high and high school. She didn't know that her date-less streak would not be broken until her junior year (he was a nice young man from the Cleveland area…but wore a little too much Drakkar). She didn't know that her love of words would open up a world of adventure – both good and not-so-awesome.
My junior high journal has been sitting out this week while I've been working on this post. Abbie keeps asking to read it. I keep saying no. I want her to be free to live and learn through making her own mistakes rather than reading through my journal and laughing at mine – ha!
 *Jen Hatmaker is one of my favorite bloggers. She writes a lot about family and motherhood. Her posts are gritty, hysterical and you should check her out at www.jenhatmaker.com.