Do you ever think, "If everyone would just do what I am telling them to do, then we will all be much happier?
If you're tired and worn out from trying to fix what you can't change, join us for this life-giving conversation on how you can let go, trust God and finally sleep at night in peace!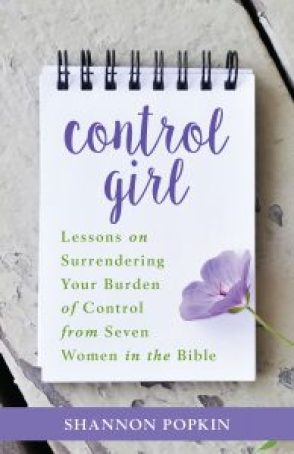 Are you a perfectionist who obsesses over making everything turn out "right"? These negative behaviors often stem from a deep, underlying desire for control.
God never designed for us to live under the burden of trying to control it all. Instead, He invites us to find the peace, security, and joy that come—not from gripping onto control, but from laying it down.
Author Shannon Popkin shares about her struggles with control and the stories of seven Control Girls of the Bible, looking for warnings, lessons, and new insights about God. Learn how you, too, can lay down this burden and find rest in surrendering to the One who truly is in control.
About today's episode… Shannon Popkin a wife and mom, a writer and speaker, a small group leader and Bible teacher.
She's been married to her husband, Ken, for the past 23 years. Together, they live the fast paced life of parenting two college-aged kids and a teen.
She's delighted with every opportunity she gets to invite women to live like God's word is true. As a speaker, Shannon love to combine her gifts for humor and storytelling with her passion for Jesus and the truth of God's Word.
Better Together host Barb Roose is a popular speaker and author with a passion to help women live beautifully strong and courageous in Jesus' name. She's the author of multiple books and Bible studies, including Surrendered: Letting Go and Living Like Jesus and Joshua: Winning the Worry Battle. Visit Barb's online home at barbroose.com.