Have you ever heard of "word clouds?" It's a visual exercise where you can drop in a block of written content and find out which words you use most often. For example, I used WordClouds.com and inserted the copy from three of my recent Happy Monday devotionals into the generator.
Here's a picture of the word cloud. The size of the words is related to how often they are used.
Can you tell which words I used most often?
Thankfully, "God" was used most often – kinda important since is a weekly devotional, right? The next word that stands out is "new." I need help deciding between whether "can" or "today" is tied for third place. Looks like "prayer" is solidly up next. I feel good about that!
Question…If you could put your prayers in a word cloud, what words would be highlighted? Which words in your prayer would be so small that they were barely visible?
For the past few weeks, I've highlighted different verses from the psalms because first, the Book of Psalms is awesome, right? Second, I am still celebrating the release of my new book, Finding Jesus in the Psalms and finally, the prayers written in the Book of Psalms meets me where I'm at in my personal life these days.*
Today, let's talk about some of the words that God loves to hear from you most often. 
Last week, this verse caught eye and brought back an important memory of hearing my childhood pastor, Rev. John Medley at the Fellowship Baptist Church. At the end of every church service, he led our congregation in Psalm 19:14.
Here's a picture from my Bible of that verse – in my Bible, I draw a heart by my favorite verses, like this one: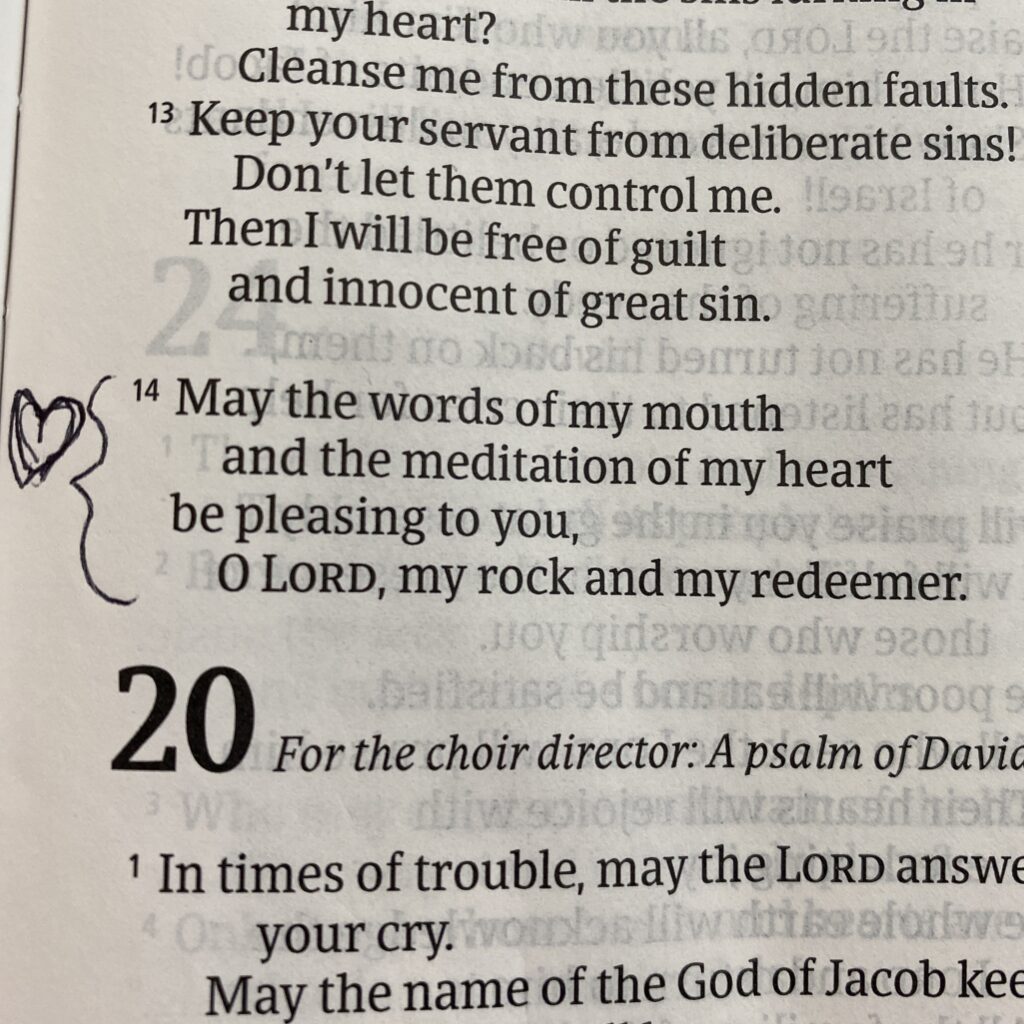 Our words reflect what is in our hearts. So, as King David writes these words, what he wants to express is his heart desire to worship God above all else that was happening in his life.
But that's not easy is it? It's hard to worship God when you're wondering about how you're going to get everything done or you're worried about the future or different people. Yet, this prayer may be exactly what you and I need to pray more often.
What words or heart attitude is pleasing to God? Today, let's talk about three phrases that you can say that not only honor God, but also, bless you:
God Loves the Words: "Thank You, God"
God loves it when you tell Him thanks because that means that you are paying attention to where He is present with you, how He is providing for you, when He is sustaining and comforting you. Each time that you stop to give God thanks, you re-center God in your life. Instead of only thinking about yourself, you're reminded that God is with you and for you. So not only does your gratitude please God, but you are blessed by acknowledging how much God loves you.
God Loves the Words: "Yes, LORD"
This one is hard! But God loves is when you say, "Yes, LORD." This is your willingness to follow God's way and not your own. God never will ask you to do something that isn't for your good. So, when you sense God giving you a direction or you read something in the Bible that pings your spirit, say, "Yes, LORD" and ask for help to do it. There's a blessed sense of peace when you agree to walk out God's path for you.
God Loves the Words: "I trust You, God"
Even more challenging than "Yes, LORD" is "I trust You, God." Most of us are concerned, worried or even terrified about some aspect of the future. But, uncertainty is never uncertain when we trust that God is in control.
It maybe helpful today for you to say aloud right now, "I trust You, God with ________________ in my life."
You may not feel like saying it, but you can practice saying it until you start believing it. Trusting God is a form of surrender and if you've done my Surrendered study, you remember Surrender Principle #6: Surrender is the only path to God's peace.
I'd love to hear from you! Post a comment and share which one of those phrases are you going to work on saying more often today? 
Draw Closer to God and Deepen Your Faith with One of the Most Popular Books in the Bible
Barb Roose's new book is just in time for the Lenten season! This six-week book study is a perfect, intentional way for you to make Lent more meaningful (with less guilt) this year!
An enjoyable, intentional step of practicing your Christian faith with this easy-to-read, yet scripturally-rich book study on one of the one most popular books in the Bible.
Learn about King David's inspiring life and how his writings equip you to learn more about Jesus and the hope that he brings!
Experience less guilt and deepen your understanding of salvation and grace as you explore powerful themes like worship, confession, hope and more!