Last week, I saw this updated version of Your Plan Vs. Reality meme on Facebook. The classic version from a few years ago didn't have flames, spider webs or sharks, but life has changed dramatically since 2020, right? Yet, the message is still the same.  We have the expectation that life will be smooth and predictable. Life keeps proving that twists and turns are a part of every journey.
We have a choice: We can get better or bitter when life twists in a way that we don't like.
Today, I invite you to learn some lesson from a woman whose life didn't turn out as she'd hoped. She became bitter, but eventually, she got better.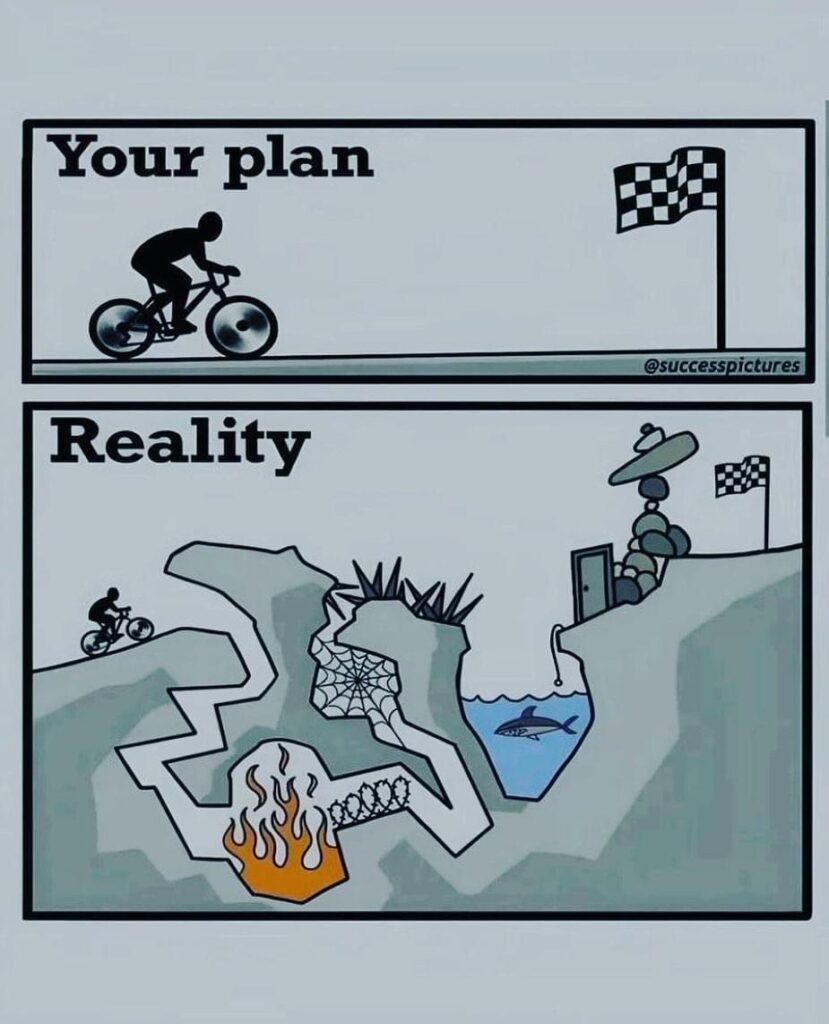 Her story resonates with me because I spent a lot of my life believing that if I worked hard, trusted God and put my grocery store cart back after unloading my groceries, then life shouldn't throw me any big curve balls.
In fact, I've told God on many occasions that I'm not a big fan of curve balls. I want life to be gentle. I'd love to know what's coming and plenty of time to figure things out. Who's with me? 
In the book of Ruth, we meet Naomi as her life is in shambles. Her husband is dead and so are her sons. Naomi lives far from her home in Bethlehem and now, she needs to go back to pick up the pieces of her life again. If you want to read all of Naomi's story, today's a good day to do that! The book of Ruth is only four chapters long and contains a sweet love story, too. If you can't, I'm here to give you a cliff notes version with some thoughts for you today:
I remember feeling like Naomi years ago. I'd been married for 25 years when over the course of one year, I had to move out of my home, my husband didn't want to be married anymore and my father and father-in-law died. I'd wake up in the morning and beg God to bring my old life back because nothing was like before and it all hurt too much.
Life falls apart for all of us. Some of you have been there – more than once. Some of you have written me about lives out of control or unwanted changes. How do you wake up and keep going without getting bitter like Naomi? Maybe you wouldn't say that you are bitter, but you know that your fellowship with God has been broken. You've distanced yourself from God – and you blame Him.
When Life Isn't Going As Planned:
Don't push away the people who love you and want to help you.
Naomi does her best to shoo away daughters-in-law, Ruth and Orpah, who want to say with Naomi. She thinks that she's bad luck, "Things are far more better for me than for you, because the LORD himself is raised his fist against me" (Ruth 1:11 NIV). Thankfully, Ruth is tenacious, and Naomi relents. Later, Naomi realizes that Ruth was God's provision for Naomi even as Naomi was too angry to see it at the time.
REFLECTION: Who are the people in your life that God could be sending to help you? Do you need to stop pushing them away? Be humble and say "yes" when loving people offer to help.
Take Your bitterness TO God, Not Make Your Bitterness About Him
Here's what Naomi said to the women in Bethlehem who welcomed her back home: "Don't call me Naomi, instead call me Mara, for the Almighty has made life very bitter for me. I went away full, but the Lord has brought me home empty" (Ruth 1:20).
You know what I appreciate here, Naomi is honest. She's not trying to spread super-spiritual topping over the devastation of her life. The issue is that Naomi hadn't taken her anger to God.  When you're angry at God, but not talking to Him, that bitterness will poison you inside out and you'll drive people away with your anger and negativity. When you bring your bitterness to Him, God helps you work through it to healing.
ACTION STEP: Be honest WITH God about your anger and disappointment. Actually say the words: "God, I'm bitter and angry that You let ___________ happen." He can handle it.
Keep Your Eyes Open to God's Grace
Ruth begins working in a man named Boaz's fields. Naomi perks up because Boaz is a distant relative and perhaps for the first time, Naomi senses hope. "May the LORD bless him. He is showing his kindness to us as well as to your dead husband" (Ruth 1:20). Naomi saw the blessing and grace of Ruth working up in the field of a family member who watches out for Ruth. Naomi chooses to see God at work and that begins to change something in her.
REFLECTION: God's grace is in your life somewhere. Take time today to look for it. Are you willing to acknowledge that even in a hard place of anger or grief, that God is still providing for you – even if it isn't what you want?
There's so much more to learn from Naomi! The speedy version is that eventually, she coaches Ruth on how to capture Boaz's attention. Ruth and Boaz fall in love, which also means that Naomi's security, family and future are restored.
Today's devotional isn't a 1-2-3 easy answer if your life has been heartbreaking or hard. Rather, these brief thoughts are intended to be a flash of hope so that you know that God hasn't forgotten you, especially if you've been wondering why your life hasn't gone as planned.
Like Naomi, I've experienced the restoration of security and hope, even though God has provided in a way that I hadn't expected. He will do the same for you. God is a gracious God of restoration and renewal.
JOIN THE CONVERSATION: Was your life turned out different than you planned? What was hard for you? How did you see God's mercy or grace in your life?