Ladies, what words do you use to describe yourself in the mirror? Does it matter what you say to yourself?
It's tough out there, isn't it, ladies? As much as we love social media, we don't love the constant barrage of culture telling us how we should look. There are a lot of "mirrors" out there. Lots of people with opinions about our size, shape and style. I can pick up one magazine that tells me young and thin is in, then click over to Buzzeed for the 25 reasons why having junk in my trunk is amazing. So many conflicting messages about beauty! Do you ever feel like you are stuck in the middle of something, but you don't know which side to take?
Even Angelina struggles with beauty…
Actress Angelina Jolie is one of the one of the most recognizable and photographed women in the world. She appears in movies, magazines and tabloid publications on a regular basis. Angelina's face, body and weight undergo constant scrutiny by anyone and everyone who feels the need to chime into the discussion. So, what does this famous woman think of all of the attention paid to her appearance? Does the fact that our culture considers her beautiful have any impact on her personal opinion of herself?
Here are some quotes that I found online from Angelina:
"I don't see myself as beautiful, because I can see a lot of flaws. People have really odd opinions. They tell me I'm skinny, as if that's supposed to make me happy."
"I'm odd looking. Sometimes I think I look like a funny muppet."
"I struggle with low self-esteem all the time. I think everyone does. I have so much wrong with me, it's unbelievable."
These quotes are not chronological and I don't know in what context they were spoken. Even Angelina can have a few bad days. However, I think they demonstrate that even a woman plastered all over dozens of international magazine covers can think and feel the very same things that you do.
What fascinates me about women is that we would never criticize our friends the way that we harangue ourselves. Imagine the following dialogue:
"Hi Jessica."
"Hello, Emily. How are you today?"
"I'm fine. But, honey, do you realize that your legs look like a sausage rolls stuffed in those jeans. Oh, and that muffin top? Girl, you look like a breakfast combination from Jimmy Dean."
That conversation would never happen between friends. (If it does, you may want to rethink that friendship.) Yet, we engage in that kind of dialogue with ourselves every time we look into the mirror. Unfortunately, our mirrors have become an accessory to our campaign of self-condemnation and self-doubt. Too often we use our mirrors to confirm what culture says is wrong with our size, shape or style.
Why does it matter if we believe that we are beautiful? 
We must understand what happens when we allow our feelings about our physical flaws undermine our true value. We'll see how dangerous and hurtful it is for us to believe the ugly lie that we cannot be beautiful.
In my 2013 Created with Curves survey, I asked over 500 women the following open-ended question: "When you look into the mirror, what are some of the words you've used to describe yourself?" Here are some of the positive responses:
Gorgeous and blessed! Voluptuous! Precious as rubies. Woman of color
I'm beautiful, amazing, lovely, God-fearing, blessed, overcomer and a role-model
Strong and independent
I'm beautiful, confident and radiant
Strong, athletic, driven
Those are some fantastic responses! We love it when a woman feels good about herself in the mirror, but secretly, we really want that woman to be US!
Here's another set of responses that women gave:
Ordinary, plain, nothing special
Fat. Ugly. Undesirable.
Gross. Why. Ehh, its okay. Fat. Ugly.
Flabby, dorky, let myself go…
Overweight, need to work on my abs
Hideous, disgrace, waste
Any of these words should familiar to you? The #1 word that women used to describe themselves in the survey was fat.  In fact, only 6.7% of women used the word beautiful to describe themselves.
I actually broke down in sobs when I read the survey report. I was so thankful for the raw honesty, but that same honesty tore my heart out as well. But, does it matter that we say those words in the mirror? YES! The impact of those words and those beliefs are felt in many ways.
When we don't believe that we are beautiful:
…We shrink back,
…We hold back,
…We don't speak up,
…We hide behind,
…We avoid.
…We struggle to connect.
I'm not against the beauty industry. As soon as I publish this post, I"m going to put on some cute clothes and make-up. But, hair and make-up aren't the cause of our issues. We've done this to ourselves. We've given others the power over our understanding and definition of beauty. Our culture has created a financially-driven faux beauty standard that smacks us around every time we pick up a magazine. It's no surprise that we feel like we are losing. Our ugly struggle with beauty remains a dark, silent cloud hanging above our lives. We don't like to acknowledge it, but it hovers over us when we look in the mirror and throughout the day when we want to live fully, not we don't feel like we are enough so we back off.
Here's the beautiful truth that pertains to you…
Here's one thought that I'd like to share with you today. It's a simple thought, but it can change how you see yourself – and others. That simple thought is this: You are beautiful because God created you.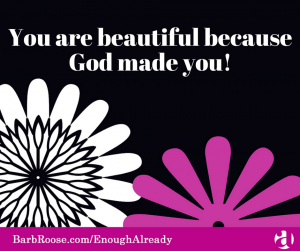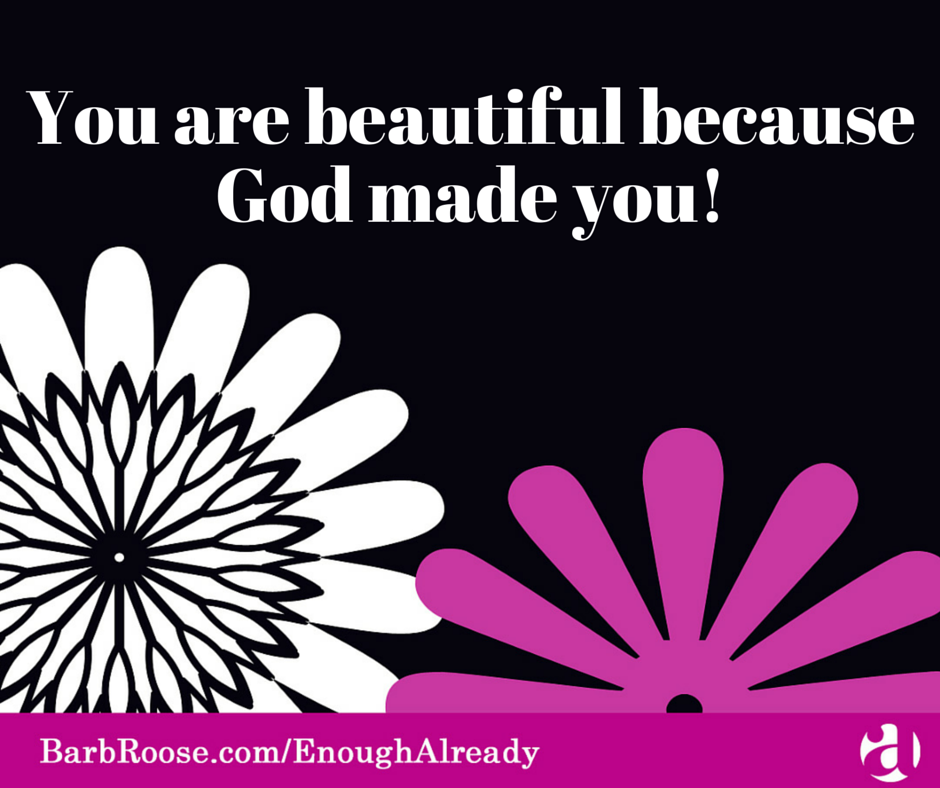 Repeat that to yourself a few times. Just let your mouth and mind get the feel for those words:
"I am beautiful because God created me."
For some, these words might be hard to choke out. Say it anyways. Some of you don't believe them. Repeat it anyways. 
Yes, our culture has tried to define beauty and convince us that their definition is right. But, here's the thing: God trumps culture. So, IMO God's definition of beauty is the only one that matters. So, let me draw the dots really close together on this one:
1. God created you.
2. The scriptures say that everything that God makes is "towb" which is the Hebrew word for "beautiful."
3. So, if God created you, then you are beautiful. Another way of saying it: You are beautiful because God created you.
That is truth. Embrace it. Live it. Share it with other women that you know.
Thanks for stopping by! I hope that this post encouraged your heart and life today. If so, feel free to share this with your friends by clicking the share buttons at the top. By the way, some of today's content came from my new book, Enough Already: Winning Your Ugly Struggle with Beauty, Chapter 4: Flaw Finding. Click here to find out more about my book and the special Kindle pricing!