---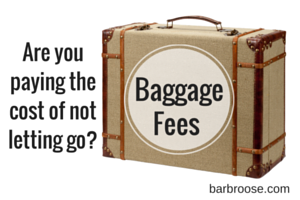 It was the end of a wonderful, yet long 12-day trip and I was ready to go home.
My friend and co-worker, Karen and I spent one week in beautiful La Ceiba, Honduras as part of a missions trip and women's conference. Then, we traveled to San Pedro Sula for several more days so that I could speak at another women's gathering. Karen and I loved sharing ministry with others. Yet, after almost two weeks away from our families, we yearned to return home.
On the morning of our departure, we tossed our clothes and souvenirs into the suitcases with reckless abandon. We didn't give a rip about separating our dirty clothes from the clean ones. Souvenirs were mixed in with our sandals and flat irons. We were getting busy getting home and didn't care about anything except making our plane.
Our airport checking-in put the brakes on our hurry. Bag #1 weighed 63 pounds. Yes, that's right. 63 pounds.  A full 13 pounds over the limit. Our second bag hovered a slice under 50 pounds. We surely weren't going to pay those hefty excess baggage fees, so Karen and I got down on that floor make some quick decisions. In a flurry, we shifted contents from the over-the-limit bag to our backpacks and purses. If it didn't fit, we got rid of it. Those suitcases barely made weight, but they made it.
As women, our lives are often packed to the max.
Our days are filled with work, family, friends, hopes, hobbies, dreams and drama. We collect experiences and memories daily. Coffee with a friend is a good memory. A bad conversation with your boss is a bad one. A phone call with your mom is a good memory, but a phone call with your mom that ends in a fight is a bad one.
By the end of each day, you've accumulated emotional and mental baggage – whether you realize it or not. The happy or satisfying memories don't take up too much room. They are light and uplift our hearts. But, the sad memories or bad experiences feel like bricks in our emotional and mental suitcases. They're heavy and take up a lot of space. And, when those sad memories or bad experiences are unresolved, they remain in the bottom of our memory suitcases day after day.
Imagine yourself right now standing gripping an emotional or mental suitcase in each hand. How much does that baggage weigh? 
How much painful, unresolved baggage do you carry with you each day? We all carry heartache. We all carry disappointment. But, are you carrying unnecessary baggage like unforgiveness, anger, bitterness, untreated depression or abuse? At some point, the weight of that baggage becomes too heavy.  When that happens, your quality of life pays the price. How much? That depends on how much excess weight you keep carrying around each day.
If you've ever lugged a super heavy bag around the airport, you know the misery. That bag takes A LOT of energy to push and move. It prevents you from the excitement of the journey. It distracts you from enjoying the company of those who travel with you. It's exhausting! After awhile, we wonder if the journey is worth it. We wonder if we should just stay home…
If you're struggling under the weight of mental or emotional baggage, you know how hard it is just to get out of the bed each morning. You know how tough it is to gather enthusiasm to hang out with friends. All of your energy is drained by managing the feelings and memories that go along with unforgiveness, bitterness, anger or whatever else is packed away in those bags. So, how can you let go?
In a word: SURRENDER.
Just as my friend and I needed to lighten our luggage to avoid excess fees, you've got to lighten the load on the things in life that weigh you down. Surrender means that you willingly decide to stop carrying those emotional and mental overstuffed bags around. You decide to drop them. Unpack them. Leave that baggage behind. Yes, it's hard to do, but it's worth doing.
A few years ago, I heard a talk from famed pastor and author, Rick Warren titled, "How to Get Through What You're Going Through" and he shared some excellent tips on how to let go of the painful experiences and move on:
1. Accept what can't be changed. Acceptance doesn't mean that you're okay or that you've given up or stopped caring. It means that you acknowledge the reality of the situation. It happened.
2. Remember that it's not the end of your story. God has put more in you and God has more for you! Once you put that baggage down, your hands and heart will be free for the future. God has a future for you!
3. Take care of yourself! Sounds a little odd, but when we drag emotional and mental pain, taking care of yourself feels like a waste of time. It's not! Get back into the habit of caring for your body and listening for its cues. Get a haircut, buy some new clothes, eat better, go to the doctor – and even if you don't feel like it, "fake it until you make it!"
4. Focus on God through worship. Worship is connecting with God. Worship is enlarging our view of God. When we're focused on the suitcases, we lose sight of God. When we surrender the suitcases, we need to shift our focus somewhere. The best shift is toward God. Listen to worship music. Find friends to pray with or join a Bible study.
5. Do something productive. After dropping those overloaded burdens, the best thing to do is find someone that you can serve. Get involved with helping others – start small. This will fill your heart and mind with new experiences and memories to fill the space left by your exhausting baggage. For example: Find a soup kitchen, rock babies in the church nursery or read to kids at school.
Friends, my prayer for you is peace. Yet, the first step to peace is surrendering what's been weighing you down. Let God have it. He can handle it, because you can't. Turn those overstuffed, too-heavy, life-crushing bags of bad memories and pain over to God and choose to move through those steps that I mentioned above. Here's the verse that seems to just keep showing up in my life a lot lately:
"The Lord gives his people strength. The Lord blesses them with peace." -Psalms 29:11
Thanks for stopping by to read today's post. Share this post with your friends if you believe this will uplift and encourage them today. By the way, I'd love to stay connected with you. Sign up for my mailing list and connect with me on social media at Facebook.com/shapestylesoul or @Barbroose.