When we are intentional moms, it assists us in becoming less-stressed moms.
When we bring our babies home from the hospital, our dream is to raise them in a happy and healthy home. But, from the time that we get pregnant or we announce plans to adopt, others begin giving us their opinions about what we should or shouldn't do. If we're not careful, other people's input will confuse us and add a lot of stress to our already busy lives.
Today, I'm continuing my fun and freeing conversation with my friend, Susan Seay. She's a speaker, author, and homeschool mom to seven – yes, seven kids! Susan is the author of Intentional Motherhood: Parenting on Purpose When Life Gets Busy.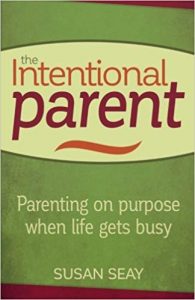 If you listened to part one of our interview, the podcast ended with Susan saying that she hit the wall after the birth of her seventh child.
"I became so burdened with my efforts to be a "good mom" and trying to do all the things a "good mom" should do. My list of "should's" was so long I was ready to give up. In fact, I did give up. I announced it one night at dinner to my husband with a simple "I'm done!" – Susan Seay, speaker and author
During this episode, Susan shares about the crucial conversations that she had with her husband, Ron about their individual expectations of what it meant to be a good mom and a good dad. In Susan's effort to be a great mom and Ron's drive to be a great dad, the couple discovered that their unspoken expections actually drove a wedge in their relationship with each other.
As you listen to Susan talk about how they worked through this challenge to their marriage and family, you'll love her sense of humor and insight. Ultimately, Ron and Susan discovered the key to reshaping their family and unifying them for the future.
What you'll hear in this episode:
How core values can keep your family focused and help you make decisions with less conflict;
Why Susan always lets her kids let go of a hug first;
How Susan uses technology to stay connected with her kids;
LEAVE A COMMENT BELOW: How do you sort out all of the opinions and information out there about how you should raise your kids?
LINKS FROM TODAY'S SHOW
Susan Seay Website | Facebook | Choosing Your Values Podcast
Through the "Mentor 4 Moms" Podcast and the relatable style found in her book The Intentional Parent: Parenting On Purpose When Life Gets Busy, you get a sense of Susan's heart to provide encouragement to moms combined with helpful practical tools. As a wife and mom to 7, she truly understands the challenges of trying to be an Intentional Parent. Susan has been a mentor to women locally in Austin, Tx and Internationally for over a decade.
Check out these other Better Together episodes: