Hi everyone!
I've got exciting news to share with you about some incredible ministry doors that God has opened for me in 2018. Have you ever had that "But, God" moment? It's that moment that only God can make happen. When we experience a "But, God" moment, it usually leaves our jaw on the ground and a stunned looked on our face. I get to share two "But, God" opportunities with you. Here's the best part: You can join me and be a part of these exciting opportunities, too!
Before I get into my news – my friend,  I want to hear from YOU. We're just a few weeks into the new year and I know that many of you are looking forward to claiming new ground in your personal, relational and spiritual lives. I'm still working on my goals for the year, but I'm considering coming up with promises verses to hold onto for the year.  I'd love to know what you're working toward or hoping for this year? Share your comment below.
Did you decide on a New Year's Resolution?
Have you chosen your special word for 2018?
What do you want God to do in your life that only He can do?   
---
Now, about that exciting news…You're hearing it before everyone else on social media!
First, I'm excited to announce that I'll be guest speaking on the 2018 Aspire Women's Event, a national conference tour. Aspire is a 1 night, 3-hour event just for women, full of laughter, learning, stories and music. It is like a weekend retreat packed into one evening with National Speakers, Authors, Comedians, and Worship.  I'll be speaking on April 20, 21 and 22 in Cincinnati, OH, Medina, OH and Pittsburgh, PA with well-known comedian Anita Renfroe and others. Sooo exciting!
Scroll down to get information on the dates. Friends, please share this news with your women's ministry leader, small group leader or pastor's wife. If your church doesn't have a women's event planned, join an Aspire Event near you. The full list of 2018 Aspire Events across the country, just click here! (But, you know that I'd love to see you at one of my Aspire Events, right?!)

 Find out more! Click the city below to get complete event information. You can download flyers and posters, too!  
Cincinnati, OH – April 20, 2018
Pittsburg, PA  – April 22, 2018
[ngg_images source="galleries" container_ids="8″ display_type="photocrati-nextgen_basic_imagebrowser" ajax_pagination="0″ order_by="sortorder" order_direction="ASC" returns="included" maximum_entity_count="500″]
 Find Joy Ladies Night Out National Tour
I'm also appearing with the Finding Joy Ladies Night Out Tour in the following cities: Elkhart, IN, Nashville, TN and Raleigh, NC. 
My friend, Lauren Gaskill is a dynamic leader and this is her third year hosting Finding Joy Ladies Night Out in select cities, but now, Finding Joy is going on tour across the country. This fall tour features a slate of spectacular speakers that love Jesus and you! Tickets are now on sale for the first ever Finding Joy Ladies Night Out National Tour! Join us for a night of joy, food, fellowship and fun: itickets.com/findingjoy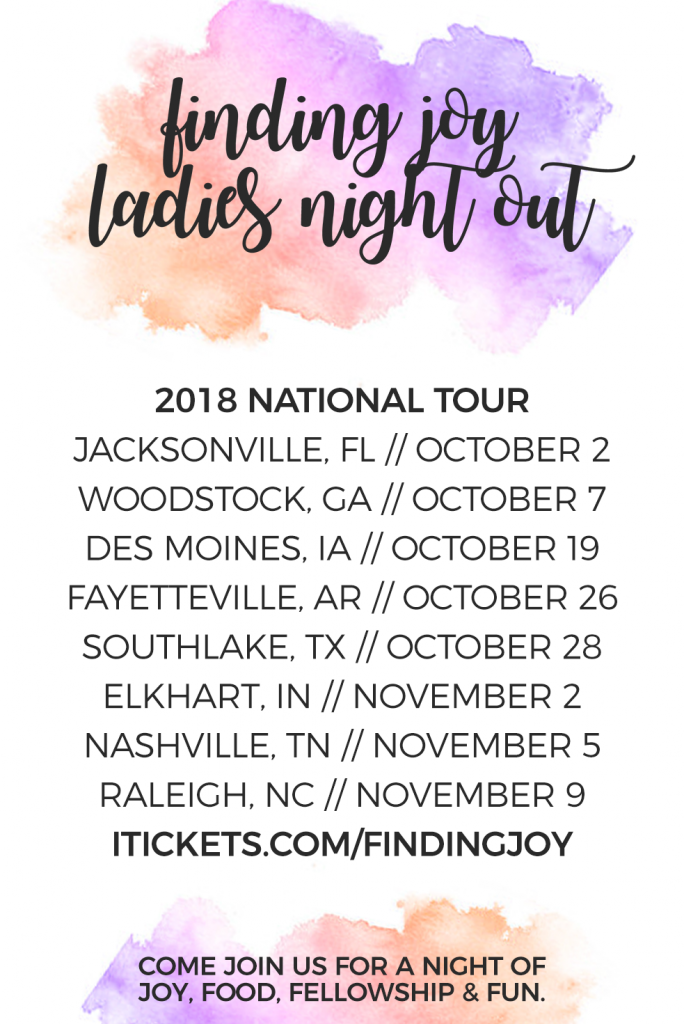 So, that's a lot of exciting news for a Tuesday morning, but I wanted to share it with you first before announcing it on social media. Would you like to join me for an Aspire Event or a Finding Joy event in 2018? If so, let me know which city. 
Between both tour events, other speaking events and the launch of my new book and Bible study, 2018 is off to an exciting start. Yet, as you know I'm still moving through the grieving process of losing my dad as well as a few other challenges in life that keep me on my knees. Thank you for your on-going prayers for me and my family. 
Don't forget to share your 2018 plans with me in the comments below! Looking forward to hearing from you 🙂
Love,

SaveSaveSaveSave
SaveSave
SaveSave
SaveSave
SaveSave